Endocrine Insider
---
Advocacy News
Join the Endocrine Society Advocacy Campaign to Renew the Special Diabetes Program Before September 30!
Republican Efforts to Repeal Obamacare Fail – for Now; Consideration of Legislation Will be Postponed until Next Year
Endocrine Society Attends High-Level Meetings in the EU on EDCs
Endocrine Society Holds Congressional Briefing on Diabetes in America
Endocrine Society Members Participate in Rally for Medical Research; Call on Congress to Increase Funding for the NIH
Endocrine Society Releases Position Statements to Influence Policymakers
Clinical News
New Resources Available to Help with the Transition to QPP
Research News
NIH Requests Information on Next-Generation Data Science Challenges
NIH Hosts Webinar on Single IRB Policy
---
Advocacy News
Join the Endocrine Society Advocacy Campaign to Renew the Special Diabetes Program Before September 30!
A Strange Story of What Diabetes and Aviation Have in Common
A top priority for the Endocrine Society is continuing funding for the Special Diabetes Program (SDP). SDP is actually comprised of two programs: the Special Type 1 Program that funds NIH research, and the Special Diabetes Program for Indians that provides diabetes education and prevention programs for American Indians and Alaskan Natives. These critical programs are set to expire on September 30 unless Congress takes action. Originally, the Congress had planned to attach the Special Diabetes Program to the Children's Health Insurance Program (CHIP) legislative package, as that legislation needed to be passed before September 30 as well. Unfortunately, as a result of the partisan health reform debate, the CHIP legislation has been postponed until later in October. In order to ensure that SDP not expire, the Congress then planned to attach it to the legislation to reauthorize the Federal Aviation Administration (FAA), which also has to passed before the end of the month. However, there is now a new debate over whether to attach both SDP programs. It is absolutely critical that Congress hear from as many people as possible about the importance of the SDP programs and the need to pass this legislation by September 30.

A vote on the FAA reauthorization could occur as early as Thursday, September 28 in the House of Representatives. We need your help in contacting Congress NOW to ensure both SDP programs are attached to it. Taking action is quick and easy when you use our online advocacy center. Click on the "Support Reauthorization of the Special Diabetes Program" campaign and enter EITHER your address OR your Member ID and email. Our software will provide a letter and direct it to your Congressional offices for you.
Republican Efforts to Repeal Obamacare Fail – for Now; Consideration of Legislation Will be Postponed until Next Year
The Senate Republicans' latest effort to repeal and replace the Affordable Care Act (ACA, also known as Obamacare) before the September 30th deadline suffered an insurmountable blow when Senator Susan Collins (ME) joined Senators John McCain (R-AZ) and Rand Paul (R-KY) in declaring her intention to vote NO on new legislation under consideration in the Senate. The Endocrine Society opposed the legislation, which was expected to result in millions of newly uninsured people by 2026, strip away the protections that people with pre-existing conditions gained with the passage of Obamacare, roll back coverage of essential health benefits, and potentially allow annual and lifetime caps on coverage to be reinstated. We shared our concerns about the legislation with Senate leadership and activated our grassroots network. Letters were sent to Senators from 24 states by Endocrine Society members.
Throughout this year's debate over health reform, the Society reviewed all proposals and determined whether to support or oppose based on non-partisan health reform principles developed by the Advocacy and Public Affairs Core Committee (APOCC). We continuously participated in the policy debate, sharing the experience and expertise of endocrinologists, and our members met with Congress and participated in several grassroots campaigns that helped make a difference.
The primary intent of the latest legislation, known as the Graham-Cassidy bill, was to give states control over how to provide insurance to their residents by overhauling the current law and transitioning current funding for tax credits, cost-sharing reduction payments and Medicaid expansion into a block grant for states to finance health insurance. This change would result in a loss of millions of dollars for each state over 10 years, and put in jeopardy the market reforms that have provided new protections to patients because each state would be allowed to design their own health insurance system. States would be faced with a new challenge in 2027 when the block grants would be eliminated.
While many people who have benefited from the ACA are encouraged with this latest defeat and headlines around the country have announced that efforts to repeal Obamacare are "dead," the Republican leadership have noted that they can try to repeal again by pairing a proposal with a tax reform package in the Fiscal Year 2018 budget resolution and once again taking advantage of Senate rules that would allow the Senate to pass health reform legislation with a simple majority, rather than the 60 votes usually needed.
We will continue to monitor any discussions related to health reform and advocate for the Society's health reform principles. Many thanks to our members who joined our advocacy efforts.
Endocrine Society Attends High-Level Meetings in the EU on EDCs
During September the Endocrine Society advocated for better regulation of endocrine-disrupting chemicals (EDC) in the European Union with members of the Society's EDC Advisory Group and European Union EDC Criteria Task Force participating in several high-level meetings and policy workshops.
On September 14, EDC Advisory Group Chair Angel Nadal, PhD, participated in a workshop sponsored by the European Food Safety Authority (EFSA) on a revised hazard assessment protocol for bisphenol A (BPA). The objective of the meeting was to gather interested parties, scientific experts, and EFSA staff to discuss input received on the hazard assessment protocol during a previous public consultation. The Endocrine Society also submitted comments on the revised protocol during the consultation; in our comments, we expressed appreciation for improvements to the protocol, but highlighted several important issues that still needed to be addressed. For instance, we encouraged EFSA to broaden the analysis of sources of exposures for infants and to assess the activity of BPA when co-exposure occurs with endogenous hormones. Prof. Nadal explained the Society's concerns to EFSA during his presentation, and took questions from the audience.
On September 26, Leonardo Trasande, MD, Barbara Demeneix, PhD, DSC, and GianCarlo Panzica, PhD, joined Dr. Nadal in a series of meetings with Members of the European Parliament and European Commission staff to discuss implementation of the European Commission's proposed criteria to identify EDCs. On June 15, the European Commission released long-awaited criteria to identify EDCs. However, the criteria would set an extremely high bar for identification, resulting in very few EDCs being identified and regulated, at a high cost to public health. During the meetings, we expressed our concern with the criteria and explained why it will be necessary for endocrine researchers to stay involved throughout implementation of the criteria.
The Endocrine Society will remain involved as the appropriate regulatory agencies implement the new criteria in the context of applicable laws on biocides and pesticides. The European Commission has expressed interest in applying the criteria across other categories, such as consumer products and toys, and the Endocrine Society will keep members informed of any developments.
Endocrine Society Holds Congressional Briefing on Diabetes in America
On September 14, the Endocrine Society held a Congressional briefing at the Capitol Visitor Center entitled "Diabetes in America: Research Accomplishments and Clinical Challenges". Speakers included Dr. Judith Fradkin (NIDDK), Endocrine Society member Dr. Shivani Agarwal (University of Pennsylvania), and a demonstration by diabetic alert dog trainer Becky Causey with her service-dog-in-training, Olive. All speakers highlighted the importance of diabetes research and prevention and continued funding for the Special Diabetes Program.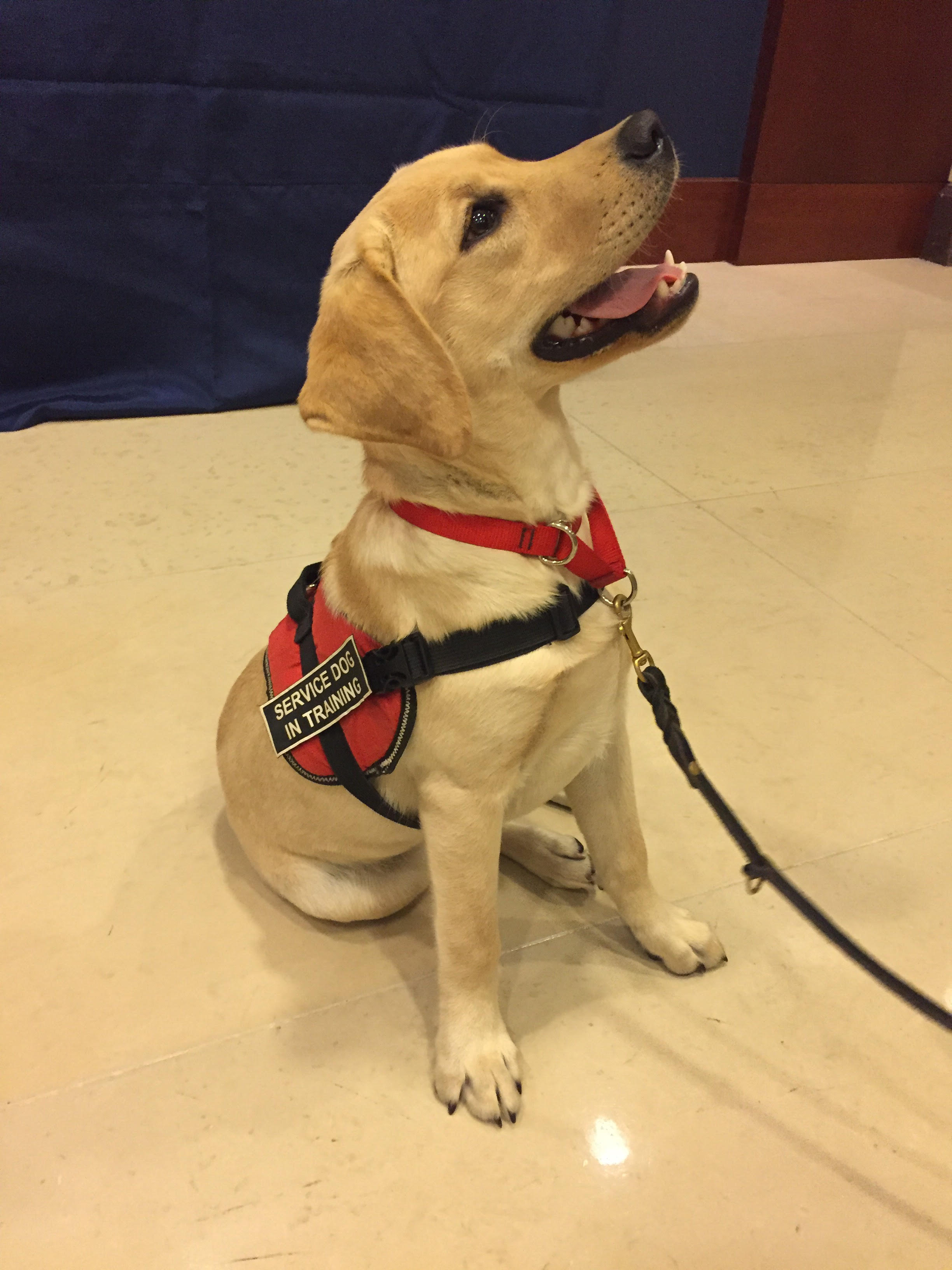 At this time, future funding for the Special Diabetes Program is uncertain. Please take time today to urge your members of Congress to renew the SDP before it expires September 30 by using our online advocacy center. Select "Take Action" on the "Support the Special Diabetes Program" campaign and a pre-written letter will be provided for you. You will only need to provide EITHER your email and member ID, OR enter your address information so that the system will send your message to the correct recipients.
Endocrine Society Members Participate in Rally for Medical Research; Call on Congress to Increase Funding for the NIH
On September 14, Endocrine Society members joined over 400 clinicians, researchers, and patients for the Rally for Medical Research in Washington, D.C. Participants met with members of Congress and urged them to provide a $2 billion increase in NIH funding in FY 2018. A yearly event held every September, the Rally for Medical Research calls on lawmakers to make publicly-funded biomedical research a priority and to raise awareness about the importance of medical breakthroughs made possible by this investment. See more about the Rally here.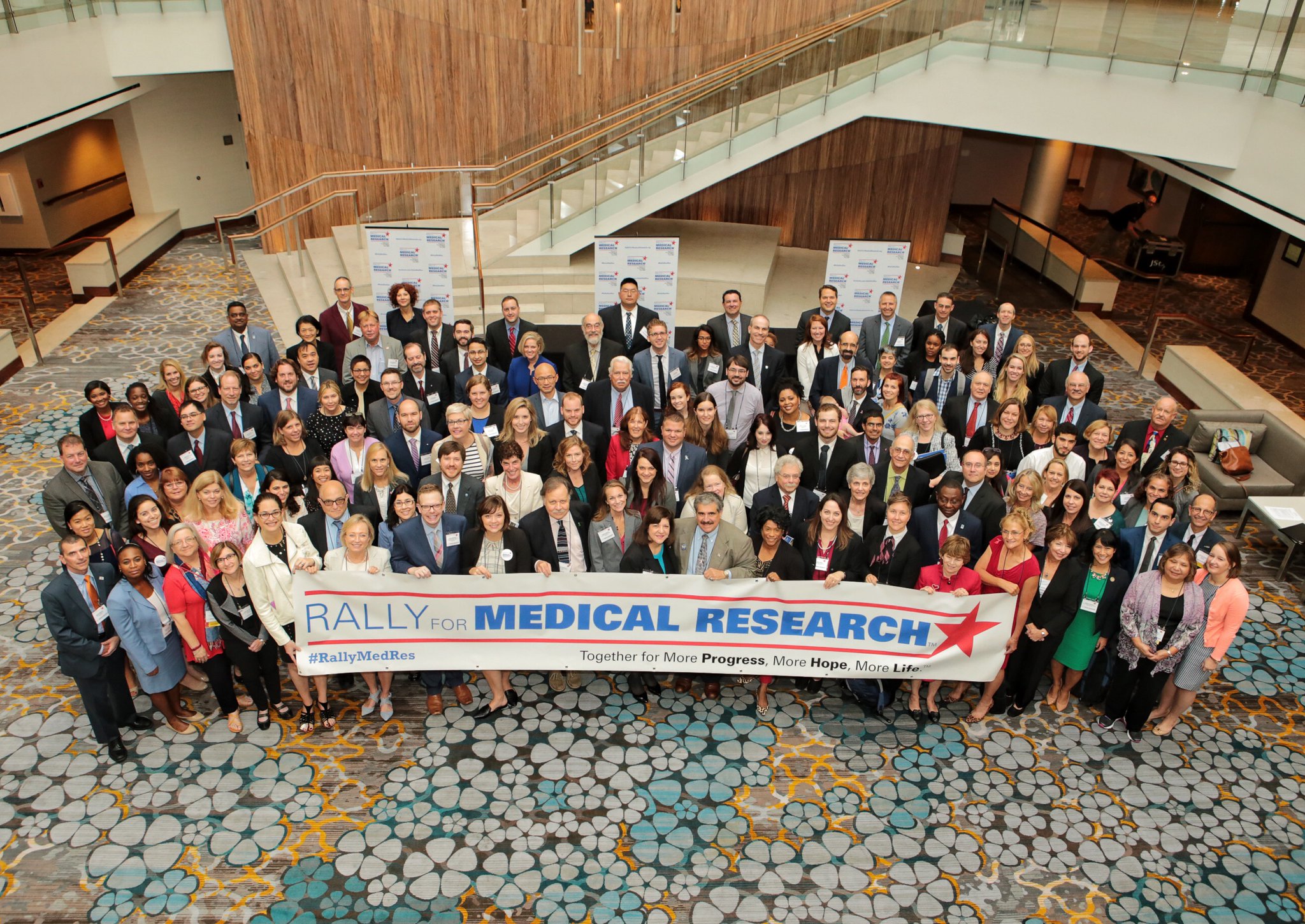 The Rally has been an important part of increasing our advocacy efforts to ensure adequate funding for medical research. As a result of these efforts, NIH, unlike most federal programs has experienced significant funding increases for the past 2 years. This year, however, funding negotiations have broken down and the Congress has passed a temporary funding bill, known as a continuing resolution, to keep the government funded at its current level through December 8. Consequently, an increase in NIH funding for this fiscal year is still uncertain. All US researchers are strongly encouraged to contact their Member of Congress and urge them to support the NIH and increase funding for FY 2018. Writing to your Representatives and Senators is quick and easy. Click here to access our advocacy center. Select "Take Action" on the "Support NIH" campaign and a pre-written letter will be provided for you. You will only need to provide EITHER your email and member ID, OR enter your address information so that the system will send your message to the correct recipients.
Endocrine Society Releases Position Statements to Influence Policymakers
The Society has recently approved position statements on Transgender Health and Ensuring Affordable Access to Hormonal Contraception. Position statements establish policy priorities that guide the Society's advocacy efforts and inform our response to proposed policy changes. These statements were developed in response to ongoing legislative, regulatory, and judicial activities that may impact women's access to hormonal contraception and transgender individual's access to important health care services. Position statements are reviewed by the Advocacy and Public Outreach Core Committee, posted for member comment, and approved by the Society's Council.
The Society's position statements are periodically reviewed to ensure that the positions remain relevant and the evidence is up-to-date. The Compounded Bioidentical Hormones statement has been updated to reflect new evidence, and the positions have remained unchanged.
Clinical News
New Resources Available to Help with the Transition to QPP
The Society hosted a session at CEU 2017 on the Quality Payment Program (QPP), including proposed changes for Year 2 and recommendations on how to make the transition to the new payment system. A recording of the session will be available on the Society's QPP website within two weeks.
The American Medical Association will be hosting a webinar on Wednesday, October 18 from 1pm to 2 pm ET on the Merit-based Incentive Payment System (MIPS). The webinar, "Thriving Under MIPS – Where to Start? Breaking down the complexity of MIPS," will teach listeners how to use the AMA's new, customizable tool – the MIPS Action Plan. Click here to register.
Research News
NIH Requests Information on Next-Generation Data Science Challenges
On September 26, the National Library of Medicine (NLM) released a request for information (RFI) on "new data science research initiatives that could address key challenges currently faced by researchers, clinicians, administrators, and others, in all areas of biomedical, social/behavioral and health-related research." The NLM is interested in hearing from the biomedical research community about research directions that could lead to breakthroughs, and is requesting information on three specific focal areas:
Promising directions for new data science research in the context of health and biomedicine.
Promising directions for new initiatives relating to open science and research reproducibility.
Promising directions for workforce development and new partnerships.
Responses to the RFI can be submitted via an online form on the NIH website. We encourage members of the Endocrine Society to submit their ideas to the NIH on this important frontier in biomedical research.
NIH Hosts Webinar on Single IRB Policy
On Wednesday, October 18, from 2:00 – 3:30 PM ET, the NIH will host a webinar on the new policy on the use of a single Institutional Review Board (IRB) for multi-site research. The webinar will cover a variety of topics related to the new plan to help principal investigators, signing officials, research institutions, and IRBs ensure that they are prepared for the new policy. For more information about the webinar, including registration instructions, please see the notice on the NIH Grants Guide. The new single IRB policy will go into effect for applications with due dates of January 25, 2018 and thereafter.

(back to top)