Full Statement: Screening for Endocrine Hypertension: An Endocrine Society Scientific Statement
Endocrine Reviews, Volume 38, Issue 2, April 2017
William F Young, Jr, David A Calhoun, Jacques WM Lenders, Michael Stowasser, Stephen C Textor
Abstract
Hypertension may be the initial clinical presentation for at least 15 endocrine disorders. An accurate diagnosis of endocrine hypertension provides clinicians with the opportunity to render a surgical cure or to achieve an optimal clinical response with specific pharmacologic therapy. It is challenging for the clinician to know when and how to perform case-detection testing for all the endocrine disorders in which hypertension may be the presenting symptom. Herein, we review the different forms of endocrine hypertension, with a focus on prevalence, clinical presentation, guidance on when to perform case detection testing, and currently available case-detection tests.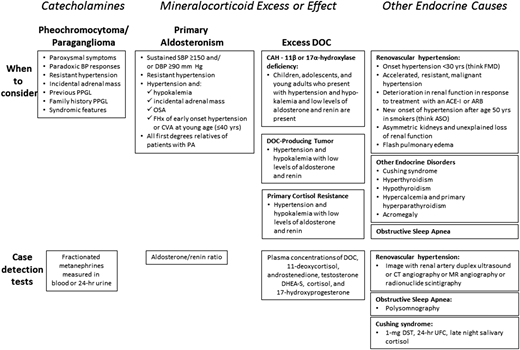 About Scientific Statements
Scientific Statements educate basic scientists, clinical scientists, and clinicians on the scientific basis of disease and on how this knowledge can be applied in clinical practice. These publications provide an evidence-based overview of basic and clinical science topics and identify areas that require additional research. Topics are selected on the basis of their emerging scientific impact on disease and their clinical relevance to the general population. Scientific Statements are developed by a multidisciplinary Task Force of experts with representation from several committees within the Endocrine Society.