Endocrine News Podcast
The Podcasts
ENP9: Questions About Osteoporosis
We talk with Ann E. Kearns, associate professor of medicine at the Mayo Clinic, about the questions endocrinologists are asked by their patients about osteoporosis. Dr. Kearns led a discussion about osteoporosis treatment and care in September at the Endocrine Society's Clinical Endocrinology Update in Miami. We spoke with her there.
ENP8: Obesity and Breast Cancer
We talk with Kristy Brown, assistant professor of biochemistry and medicine, and Priya Bhardwaj, a PhD candidate, both at Weill Cornell Medicine, about their research correlating obesity with DNA damage in the breast epithelium of BRCA mutation carriers, and investigating potential connections with adipose inflammation and elevated aromatase expression. They presented their research at the Endocrine Society's annual meeting in Chicago.
ENP7: Nuclear Receptors and Transcriptional Regulation
We talk about nuclear receptor biology with Laurel Coons, first author of an Endocrinology article on hormone-mediated enhancer activation. The Endocrine Society is a sponsor of the upcoming Great Lakes Nuclear Receptor Conference in Minneapolis and is excited to share this nuclear receptor focused interview with you.
ENP6: New Treatment for Perimenopause
As part of Women's Health Month, we speak with Jerilynn Prior, who talks about a new treatment approach to perimenopause: oral, micronized progesterone.
ENP5: Disorders in Childhood Cancer Survivors
We interview Charles Sklar, from Memorial Sloan-Kettering Cancer Center, about the latest Endocrine Society clinical practice guideline. Dr. Sklar talks about the need to screen for endocrine disorders in long-term survivors of childhood cancer.
ENP4: Preconception Counseling
In this episode, we speak with Angela Magdaleno, from the Lehigh Valley Health Network, about preconception counseling for women with diabetes. Dr. Magdaleno presented findings of a patient review and a survey of providers at the Endocrine Society's annual meeting.
ENP3: Semen Quality and General Male Health
We talk with Alberto Ferlin, a professor of endocrinology at the University of Brescia, Italy, about his cohort findings connecting semen quality, reproductive function, and conditions in men such as hypogonadism, high body-mass index, and metabolic syndrome.
ENP2: Autoimmune Diabetes Outcomes and Anti-Cancer Agents
We talk about diabetes and cancer with Anupam Kotwal, endocrinology fellow at the Mayo Clinic. His research shows the potential for autoimmune diabetes outcomes from novel anti-cancer agents.
ENP1: Prototype Male Pill
We talk with Stephanie Page, a professor of medicine at the University of Washington, about research on what she calls a prototype male pill.
Subscribe
Stay up to date by copying this link into your podcast player or:
The Sessions
Experience Endocrine Society educational programming from the convenience of your home or office. ENDO Session recordings are accessible on your computer, tablet or phone, or on the go with downloadable mp3.
With this year's Clinical Endocrinology Update (CEU) coming up here are some featured sessions from CEU 2017:
Q&A/Panel Discussion on Men's Health with Drs. Anawalt and McLachlan

Q&A/Panel Discussion on Diabetes with Drs. Carlson, Wysham, and Valencia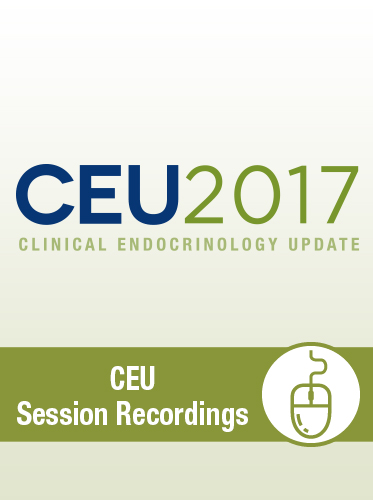 Hosts

Aaron Lohr
Chief Communications Officer

Caitlin R. Ondracek, PhD
Manager, Acquisitions Editor & Strategic Content Developer
Producer

Andrew Harmon
Director, Publishing Technology