Endocrine News Podcast
The Podcasts
ENP1: Prototype Male Pill
We talk with Stephanie Page, a professor of medicine at the University of Washington, about research on what she calls a prototype male pill.
ENP2: Autoimmune Diabetes Outcomes and Anti-Cancer Agents
We talk about diabetes and cancer with Anupam Kotwal, endocrinology fellow at the Mayo Clinic. His research shows the potential for autoimmune diabetes outcomes from novel anti-cancer agents.
ENP3: Semen Quality and General Male Health
We talk with Alberto Ferlin, a professor of endocrinology at the University of Brescia, Italy, about his cohort findings connecting semen quality, reproductive function, and conditions in men such as hypogonadism, high body-mass index, and metabolic syndrome.
ENP4: Preconception Counseling
In this episode, we speak with Angela Magdaleno, from the Lehigh Valley Health Network, about preconception counseling for women with diabetes. Dr. Magdaleno presented findings of a patient review and a survey of providers at the Endocrine Society's annual meeting.
Subscribe
Stay up to date by
copying this link
into your podcast player or:
The Sessions
Experience Endocrine Society educational programming from the convenience of your home or office. ENDO Session recordings are accessible on your computer, tablet or phone, or on the go with downloadable mp3.
With this year's Clinical Endocrinology Update (CEU) coming up here are some featured sessions from CEU 2017:
Q&A/Panel Discussion on Men's Health with Drs. Anawalt and McLachlan

Q&A/Panel Discussion on Diabetes with Drs. Carlson, Wysham, and Valencia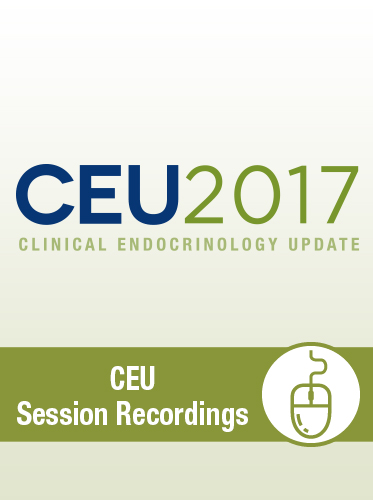 Hosts

Aaron Lohr
Chief Communications Officer

Caitlin R. Ondracek, PhD
Manager, Acquisitions Editor & Strategic Content Developer
Producer

Andrew Harmon
Director, Publishing Technology