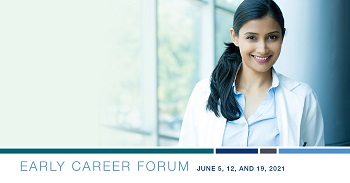 General registration is now closed for the Early Career Forum, June 5, 12, and 19. This prestigious opportunity is offered exclusively to graduate and medical students, postdoctoral and clinical fellows, and internal medicine residents. The ECF workshop provides a unique opportunity to connect with today's leading endocrine professionals. Attendees will gain tools and perspectives needed to successfully navigate career options as physicians and scientists. The event will offer tips on interviewing, negotiating a dream job, and transitioning through different career stages, among other things.
2021 EARLY CAREER FORUM PRELIMINARY AGENDA
To learn more about the Early Career Forum, contact us at 202.971.3657 or email [email protected].