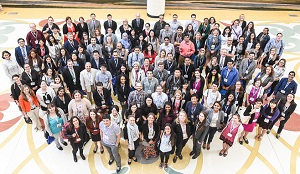 Specifically tailored to offer graduate and medical students, postdoctoral and clinical fellows, and internal medicine residents, the Early Career Forum (ECF) helps to navigate critical transitions while providing fellows access to mentorship and guidance from world renowned endocrine professionals.

We are pleased to share that the 2021 ECF will be a virtual experience utilizing an interactive online platform over the course of three days. This year's forum will offer a series of educational on-demand (recorded) and live sessions that cover a range of topics from Career Paths Within Clinical Endocrinology and Research, Landing the Dream Job, and resources on how to stay engaged within the Endocrine Society.

Our goal is for you to have the same unique ECF experience in this new socially distant format. View our preliminary agenda below.
On-Demand Sessions
Sessions
Secrets to Success: Stories of a Personal Career Journey
This session will offer an inspirational look into the speaker's journey to his/her current success in research or clinical endocrinology. The speaker will provide interesting and motivational experiences encountered during the progression of his/her research or clinical career, along with helpful advice in balancing one's career and personal life.
Speakers: Marta Korbonits, MD, PhD and Ormond MacDougald, PhD
Career Paths Within Clinical Endocrinology and Research
These short clips will feature a day in the life of professionals in differing career pathways in endocrinology.
Speakers: Camila Manrique Acevedo, MD; Sunita Agarwal, PhD; Cherie Butts, PhD; Diala El-Maouche, MD, MS; Darshan Khangura, MD; Marta Korbonits, MD, PhD; Joe Laakso, PhD; Ana Latronico, MD, PhD; Maya Lodish, MD; Erik Nelson, PhD; Adam Stein, MD; Stacey Tobin, PhD; Lindsey Trevino, PhD; and Bryan Wilson, PhD, MBA

The Do's and Don't of Interviewing
These short clips will provide trainees with key tips and resources that will help in navigating the interview process.
Speakers: Leonor Corsino, MD; Dana Gaddy, PhD, Yanira Pagan-Carlo, MD; Antonio Ribeiro-Oliveira, Jr, MD, PhD
How the Endocrine Society Changed My Life: Career Advancement
In these short clips, Endocrine Society members will share their stories on how being a part of the endocrinology community and the Endocrine Society has helped them make career transitions and achieve career success.
Speakers: Steve Hammes, MD, PhD; Zeynep Madak-Erdogan, PhD; Matthew Sikora, PhD; and Lindsey Trevino, PhD
Resiliency: Overcoming and Growing from Setbacks
In these short clips, speakers share their insights and lessons learned from facing challenges and the strategies they used to overcome and accomplish their goals.
Speakers: Mimi Hu, MD; Shanna Newton, PhD; and Joy Wu, MD, PhD
---
Live Sessions
All Sessions will start at 10:00 AM EDT. This schedule is subject to change
---
Saturday, June 5, 2021
Time

Session

10:00AM–10:15AM
Opening Remarks
Moderators: Katja Kiseljak-Vassiliades, DO; Inga Harbuz-Miller, MD; and Chinenye Usoh, MD
Welcome: Endocrine Society President Carol Wysham, MD

10:15AM–12:00PM
Know Your Options: Career Paths Within Clinical Endocrinology and Research
This session is a panel discussion of the breadth of career pathways in research and medicine in the areas of academia, government, science writer, industry, private practice, international academia, and advocacy. Attendees will have the opportunity to meet with faculty in small break out groups.
Speakers: Camila Manrique Acevedo, MD; Sunita Agarwal, PhD; Cherie Butts, PhD; Diala El-Maouche, MD, MS; Darshan Khangura, MD; Marta Korbonits, MD, PhD; Joe Laakso, PhD; Ana Latronico, MD, PhD; Maya Lodish, MD; Erik Nelson, PhD; Adam Stein, MD; Stacey Tobin, PhD; Lindsey Trevino, PhD; and Bryan Wilson, PhD, MBA
---
Saturday, June 12, 2021
Time

Session

10:00AM–10:15AM
Opening Remarks
Moderators: Inga Harbuz-Miller, MD; and Dipika Mohan, PhD
Welcome: Endocrine Society Immediate Past President Gary Hammer, MD, PhD

10:15AM–12:00PM
Landing the Dream Job
This session will combine Ted Talk style presentations with panel and break out discussions. Speakers will provide attendees with tips and tools on navigating the job search, mastering interviews, and developing negotiation techniques, understanding the value they bring to the new job, and learning ways to ultimately be successful at landing the dream job.
Speakers: Leonor Corsino, MD, MHS; Dana Gaddy, PhD; Yanira Pagan-Carlo, MD; and Antonio Ribeiro-Oliveira, Jr, MD, PhD
---
Saturday, June 19, 2021
Time

Session

10:00AM–10:15AM
Opening Remarks
Moderators: Inga Harbuz-Miller, MD and Erik Nelson, PhD
Welcome: Endocrine Society President-Elect, Ursula Kaiser, MD

10:15AM–11:15AM
Resiliency and Navigating Your Career During COVID
This session will teach strategies on how to bounce back after you have a setback. Attendees will learn how to tackle burnout and achieve life balance in time of adversity. Attendees will be presented with challenging scenarios and work in breakout groups to share techniques and build resiliency skills.
Speakers: Mimi Hu, MD; Shanna Newton, PhD; and Joy Wu, MD, PhD
11:15AM–11:45AM
How the Endocrine Society Changed My Life: Get Involved
This panel discussion will offer attendees insight into how a professional society can help advance their careers and guidance on how to get involved and build networks within the Endocrine Society.
Speakers: Stephen Hammes, MD, PhD; Zeynep Madak Erdogan, PhD; Matthew Sikora, PhD; and Lindsey Trevino, PhD
11:45AM– 12:00PM
Networking with Speakers
---