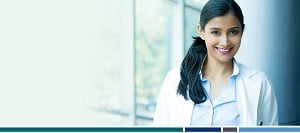 The Early Career Forum is a prestigious program offered exclusively to graduate and medical students, postdoctoral and clinical fellows, and internal medicine residents. The ECF workshop provides a unique opportunity to connect with today's leading endocrine professionals. Attendees gain tools and perspectives needed to successfully navigate career options as physicians and scientists. View the program from our previous forum, held June 10, 2022 in Atlanta, GA
APPLICATION PERIOD: October 15, 2022, to January 6, 2023

Please note: In-person attendance at ENDO 2023 is required to receive the award. The travel award program is not offered virtually. Members are eligible to receive one travel award or travel reimbursement per meeting. If you are selected for more than one travel award you will receive the higher monetary value.


Attendance at the Early Career Forum will provide attendees with the tools to:
Develop new perspectives in career options for physicians and physician scientists
Develop new perspectives in career options for scientists
Apply expert advice to maneuver through training and career transitions
Navigate the rigors of a career in science, including how to interview and prepare for a seminar, publishing, and transitioning through different career stages
Travel Awards and Registration
Travel awards are offered to select student and fellow members. Recipients receive a $400 travel award and complimentary registration to attend the workshop and ENDO 2022, the Society's Annual Meeting. Individuals who do not receive travel awards may register to attend the workshop.
Please see Eligibility and Application Requirements page for more information. Previous Early Career Forum or Endocrine Trainee Day travel award winners are ineligible.
To learn more about the Early Career Forum, contact us at 202.971.3657 or email [email protected].