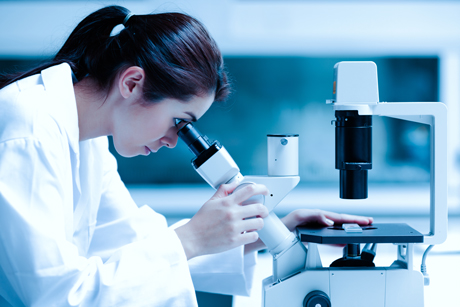 Summer Research Fellowship Excellence in Research Award
The Endocrine Society offers Summer Research Fellowships to encourage promising undergraduate students, medical students, and first year graduate school students to pursue careers in endocrinology. The Society provides a stipend to each award recipient to participate in research projects under the guidance of a Society member for 8 to 12 weeks during the summer.
After the summer fellowship, a select few of recipients will have the opportunity to apply for a travel award to attend ENDO 2021, the Society's Annual Meeting being held on March 20-23, 2021, in San Diego, CA. Previous recipients of the Summer Research Fellowship can apply for the Excellence in Research award to continue their research training and career development.
Supported by the Endocrine Society
---
Eligibility Criteria
Student applicants must meet the following requirements at the time of application:
Currently enrolled in school full-time and may not be employed as a research assistant.
Academic level must fall into one of the following categories:

All undergraduate students currently enrolled in a four year institution
Graduate students in their first year
Medical students who are beyond their first year of schooling
Mentors must meet the following requirements at the time of application:
Must be active members in the Endocrine Society.
Only one application per mentor may be submitted.
Mentors who won a fellowship in 2019 are ineligible to sponsor an application.
Application Requirements
The following documents must be received to constitute a complete application:
Completed online application form submitted by the student
Summary of research project, jointly prepared by Mentor and Student (1 page)
Mentor statement which includes:

Mentor's role in the research project including their plans for training
Student's role in the research project
Student's qualifications

Student statement explaining why he/she chose Mentor's lab and project (Please indicate your anticipated start and end date for your summer research)
Mentor's biosketch (NIH Style; 5 page maximum)
Transcripts from all advanced academic institutions in which student has been enrolled. Transcripts do not need to be official. All transcripts must be submitted in English.
Student's CV or resume (mailing address must be included)
Disclosure of funding statements
The following documents are required to be considered for the Summer Research Fellowship ENDO travel award: (Please note The completion of the student's summer research program and full participation in all requested Society's activities are required)
Provide a personal statement explaining why the student would like to attend ENDO
Submit an abstract of the intended research to be presented during ENDO
Develop a mentor plan outlining the intended participation at ENDO (Note: Should be prepared jointly by mentor and student)
Provide a letter of recommendation from the students' mentor
NOTE: All supporting documents must be submitted as one PDF or Word file at the time of submitting the application.
Please contact us at [email protected].
---
Fellowship Recipients

2020
| Recipient | Institution |
| --- | --- |
| Annie Chen | University of California, San Diego |
| Ashlie Diaz | Northwestern University |
| Andjela Dragojevic | Northwestern University |
| Jacqueline Hernandez | University of California, San Diego |
| Laiba Jamshed | McMaster University |
| Kate Kelly | Yale University |
| Ramon Martinez | Universidad Central del Caribe |
| Jose Muratalla | University of Illinois at Chicago |
| Isani Singh | Harvard College |
| Yash Soni | University of Miami Miller School of Medicine |
| Konstantinos Stefanakis | University of Athens Medical School |
| Nicole Teaney | Stonehill College |
| Madeline Young | University of New Hampshire |
| Huifei Zheng | Auburn University |
2019
| Recipient | Institution |
| --- | --- |
| Anna Meyer | University of Pittsburgh |
| Bjoern Kluwe | The Ohio State University |
| Bryan Naelitz | Cleveland Clinic Lerner College of Medicine |
| Chris Yates | Brigham Young University - Idaho |
| Claire Houchen | George Washington University Med Center |
| Delaney Geitgey | Edison Biotechnology Institute |
| Iad Alhallak | University of Arkansas |
| Joseph Cesare | University of Wisconsin |
| Joseph Ciarelli | University of Michigan |
| Kosuke Inoue | UCLA |
| Lindsey Dudley | University of Michigan |
| Maura Connorton | St. John Fisher College |
| Melody Salehzadeh | University of British Columbia |
| Mikoto Kobayashi | Grinnell College |
| Tulasi Talluri | Michigan State University |
2018
| Recipient | Institution |
| --- | --- |
| Andy Tran | University of Toronto |
| Apoorva Tummala | University of Illinois at Chicago |
| Aspen Johnston | University of Arizona |
| Dana Joseph | Yale University |
| Danielle Xie | Bryn Mawr College |
| Jesse Cochran | University of Iowa |
| Katherine Tian | University of California, San Diego |
| Laura Cui | University of California, San Diego |
| Lauren DeSantis | University of Michigan |
| Lillian Sau | University of California, San Diego |
| Matthew Colpo | Ohio University |
| Meghan Kellett | University of Colorado |
| Pavlina Chrysafi | Aristotle University of Thessaloniki |
| Samuel Cler | University of Illinois |
| Yuebo Yang | University of British Columbia |
2017
| Recipient | Institution |
| --- | --- |
| Aaliyah Riccardi | University of Connecticut Health Center |
| Benjamin Tooke | Case Western Reserve University |
| Brandi Smith | University of Illinois at Urbana-Champaign |
| Brandon Ge | University of Southern California |
| Charlotte LaPlante | University of Massachusetts Amherst |
| Dana Fryer | Boston University |
| Elizabeth Geerling | Southern Illinois University Carbondale |
| Emilie Brule | McGill University |
| Madeline Newkirk | University of Richmond |
| Mitra Shokat | Reed College |
| Rose Schrott | Duke University |
| Serena Banh | University of Aberdeen |
| Sofia Maestro Sanz | University of Rochester |
| Venkata Jonnakuti | Drexell University |
| Victoria Andriessen | University of Michigan |
2016
| Recipient | Institution |
| --- | --- |
| Ashley Patton | Ohio University Library |
| Bethany Beekly | Gonzaga University |
| Claire Holdreith | University of Wisconsin Madison |
| Elizabeth Jensen | Edison Biotechnology Institute |
| Iris Schwartz | University of Illinois at Chicago |
| Kristina Wiggers | McMaster University |
| Leon Yang | Stony Brook University |
| Lesley Rabago | University of California, Riverside |
| Luke Duda | The University of Illinois |
| Meng Hao | Harvard Medical School |
| Ngai Ting Chan | University of Wisconsin Madison |
| Rahil Shah | University of Miami |
| Raud Razzaghi | Arizona State University |
| Ricardo Villarreal | University of Colorado |
| Stacy Tsai | Northwestern University |
2015
| Recipient | Institution |
| --- | --- |
| Anna Zhang | University of California, Berkeley |
| Crystal Trang | University of California, San Diego |
| Danny Trotier | University of Cincinnati College of Medicine |
| Jad Abi Rafeh | McGill University |
| Jasmin Alves | University of Southern California |
| Kathleen Lutchi | University of Denver |
| La Shondra Ellis | University of Connecticut Health Center |
| Matt Monhart | St. Lawrence University |
| Moustafa Abdalla | University of Toronto |
| Nicholas McCarty | University of Iowa |
| Paula Aliberti | University of Buenos Aires |
| Rebecca Foright | University of Colorado Anschutz Medical Campus |
| Victoria Eng | University of Michigan |
| Wenqing Ye | University of Toronto |
2014
| Recipient | Institution |
| --- | --- |
| Alyssa Dixon | Chaminade University of Honolulu |
| Anthony Junker | Chaminade University of Honolulu |
| Brian Skidmore | Brigham Young University |
| Carolina Montanez | University of Puerto Rico -Cayey Campus |
| Christopher Marino | The University of Toledo College of Medicine and Life Sciences |
| Danielle Grossman | Harvard College |
| David Olshan | Cornell University |
| Hanling Chang | University of California, Santa Cruz |
| Katie Mishall | University of Colorado Anschutz Medical Campus |
| Lisa Greene | University of Colorado Anschutz Medical Campus |
| Maksim Shlykov | University of Michigan Medical School |
| Samantha Spierling | University of Michigan |
| Wen Zhao | University of Toronto |
2013
| Recipient | Institution |
| --- | --- |
| Claire Lee | University of Toronto |
| David Bacsik | New College of Florida |
| Jennifer Steger | Brown University |
| Kendra Wulczyn | Perelman School of Medicine at the University of Pennsylvania |
| Narine Wandrey | University of Dallas |
| Nora Chokr | American University of Beirut |
| Paris Barkan | Jefferson Medical College |
| Rachel Umans | University of Chicago |
| Ruijun Wang | University of Glasgow |
| Sarah Shaaban | Indiana University School of Medicine |
| Sravanthi Gutta | University of Michigan School of Public Health |
| Stephen Arndt | Tulane University School of Medicine |
| Taylor Wallen | University of Michigan |
| Thomas Rogers | University of Colorado-Anschutz Medical Campus |
| Thomas Tilston | Cardiff University |