The Endocrine Society's CPG Mobile App is your source for interactive point-of-care tools, patient information, and clinician education modules derived from the content of many of the Endocrine Society's guidelines. The app is organized by a variety of endocrine topics, so you can easily access the information you are looking for.
Have you seen the new update to our app?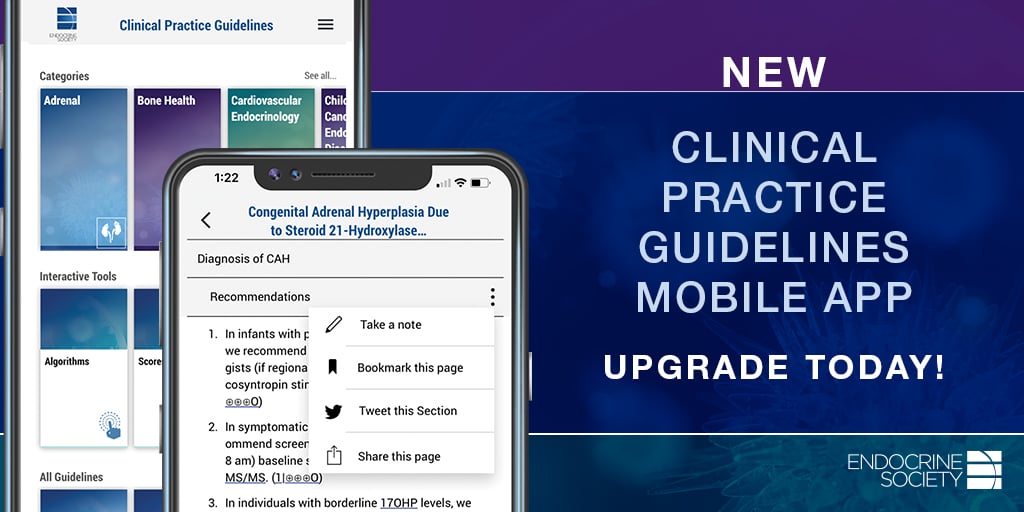 The refreshed design puts point-of-care tools at your fingertips like never before. Take advantage of an improved user interface, updated navigation, and new ways for sharing content from the app itself!
Each of the topics has:
An executive summary from which you can access a list of each guideline's recommendations
Tables and figures for each guideline
Links to interactive point-of-care tools and patient resources

Links to online clinician education modules and live program sessions – some with MOC and CME credits
A link to the full published guideline
Point-of-care tools include algorithms and decision aids that help you to:
Develop treatment plans for individuals with gender dysphoria/incongruence
Determine whether your patient with diabetes is a good candidate for an insulin pump
Assessment of ASCVD Risk
Identify drugs that are not associated with weight gain to prescribe to your patients with obesity
Convert units and values used in the US to SI units
Plus, access these guidelines:
Pharmacological Management of Osteoporosis in Postmenopausal Women
Congenital Adrenal Hyperplasia Due to Steroid 21-Hydroxylase Deficiency
Treatment of Cushing's Syndrome
Evaluation and Treatment of Hirsutism in Premenopausal Women
Hypothalamic–Pituitary and Growth Disorders in Survivors of Childhood Cancer
Diagnosis of Cushing's Syndrome
Functional Hypothalamic Amenorrhea
Treatment of Gender Dysphoric/Gender Incongruent Persons
Diabetes Technology—Continuous Subcutaneous Infusion Therapy and Continuous Glucose Monitoring in Adults
Pediatric Obesity—Assessment, Treatment and Prevention
Hormonal Replacement in Hypopituitarism in Adults
Diabetes and Pregnancy
Evaluation and Management of Adult Hypoglycemic Disorders
Primary Prevention of Cardiovascular Disease and Type 2 Diabetes in Patients at Metabolic Risk
Pharmacological Management of Obesity
Management of Hyperglycemia in Hospitalized Patients in Non-Critical Care Setting
Testosterone Therapy in Men
Get it on Google Play | Download on the App Store