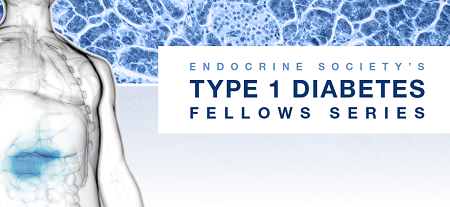 The application for the 10th annual installment of Endocrine Society's Type 1 Diabetes Fellows series is now closed. Applicants will receive notifications and more details in early April. Have questions? Please contact [email protected] for assistance.
For ten years, this program has sought to address skill and workforce gaps by providing comprehensive education on type 1 diabetes care while also strengthening the network of next generation endocrinologists.
This year the Type 1 Diabetes Fellows Conference will have two core components:
45-minute on-demand didactic sessions; and
A prestigious, in-person meeting held in Chicago June 13-14, ahead of ENDO, where fellows get the exclusive opportunity to meet with experts in T1D and product demonstrations with industry representatives.
Fellows that are invited to attend the in-person meeting will receive complimentary registration to ENDO 2023, as well as a travel stipend.
In-person Meeting Schedule:
Early Spring 2023

On-Demand Didacticsessions launch

June 13, 2023
Welcome Reception
Dinner
Keynote Address with Q&A
Product Showcase
June 14, 2023

Lectures
Small group and lunch discussions with faculty
Breakout sessions

2023 Learning Objectives
Upon successful completion these educational initiatives, participants should be better able to:
Discuss the prevalence and progression of type 1 diabetes to recognize signs and differentially diagnose diabetes
Devise individualized treatment strategies that use new and emerging insulin therapies to manage individuals with type 1 diabetes with and without common comorbid conditions.
Incorporate diabetes technologies, including insulin pump therapy and continuous glucose monitoring, into treatment strategies for appropriate individuals with type 1 diabetes and evaluate data from those technologies.
Recognize and evaluate individuals with type 1 diabetes for signs of depression and distress using updated guidelines and practice tools.
Apply updated knowledge of treatments, practice guidelines, and clinical skills to improve care, long-term outcomes, and sick day management of individuals with type 1 diabetes.
Describe current and emerging therapy for the treatment of pre-clinical type 1 diabetes
Discuss various strategies for exercise and minimizing hypoglycemia for individuals with T1D