Join us as we commemorate 25 years of commitment to increasing diverse representation, promoting an inclusive global community, and addressing equity concerns within endocrinology.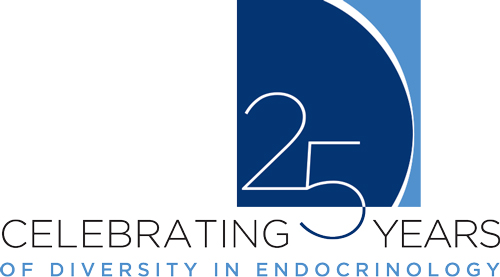 ENDO 2020 in San Francisco, CA will recognize the accomplishments of the Minority Affairs Committee/Committee on Diversity and Inclusion over the past 25 years, showcase current D&I work that is impacting the field, and look forward to continuing to strengthen the diversity and inclusiveness of our organization.
Participate in these 25 Years of Diversity Celebration events at ENDO 2020
Saturday, March 28, 2020
(11:30AM - 12:15PM)
These short presentations will highlight the endocrine-related health disparities research of our early career members. Five top-scored poster abstracts in this research area will be previewed in the Science Hub on the Expo Hall floor.
(6:00PM - 7:00PM)
Anyone interested in connecting with endocrine professional and advocates in the lesbian, gay, bisexual, and transgender community should attend this networking reception.
---
Sunday, March 29, 2020
(11:00AM - 11:45AM)
Learn more about the emergence of research showing dramatic racial and ethnic disparities in endocrine related disorders such as diabetes at the Clark T. Sawin Memorial History of Endocrinology Lecture. This lecture will consider the biological basis and clinical risk factors of endocrine health disparities and factors that help improve health indicators and potentially close the gap between racial and ethnic groups.
(4:00PM - 5:30PM)
This symposium is designed to explore health disparities in Glomerular filtration rate, unconscious bias in clinical care, and how to increase patient participation in clinical trials.
(5:45PM - 8:30PM)
Join us at the 25 Years in Diversity main event open to all registered ENDO attendees. The celebration will follow a poster session that allows trainees of underrepresented groups to showcase their research. This will be an evening of networking, inspiration, and fun with our global community of endocrinologists.
---
Monday, March 30, 2020
(4:15PM - 5:45PM)
This symposium will explore physiological, clinical, social and behavioral aspects of disparities in obesity and obesity treatment, including the physiological and mechanistic factors that drive an increase in cardiometabolic co-morbidities, limitations to lifestyle intervention to treat obesity, and the socio-economic impact on obesity.