Join host Dr. Chase Hendrickson, Vanderbilt University Medical Center, Dr. Anna Goldman, associate program director of fellowship at Brigham and Women's Hospital, and Dr. Andrea Dunaif, an expert in women's health and endocrinology in the Mount Sinai Health System, as they discuss a recent JCEM article, "Fertility and Pregnancy Outcomes in Women with Polycystic Ovary Syndrome Following Bariatric Surgery."
Click here to login and listen to the episode!
Meet the Speakers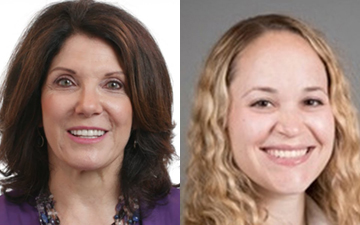 Andrea Dunaif, MD, graduated from Sarah Lawrence College and obtained her MD from Columbia University College of Physicians and Surgeons. She completed her internal medicine training at Presbyterian Hospital in New York City and her endocrinology training at the Massachusetts General Hospital in Boston. Dr. Dunaif held a number of leadership positions in academic medicine, including the inaugural Director of Women's Health at Brigham and Women's Hospital and Director of Harvard Medical School's Center of Excellence in Women's Health. She became an associate professor of medicine at Mount Sinai School of Medicine in 2017. Dr. Dunaif is an internationally recognized expert in endocrinology and women's health, having conducted research on PCOS and its connection to other hormonal disorders like diabetes. Dr. Dunaif's research has revolutionized the treatment of PCOS with insulin sensitizing drugs, and illuminated the genetic causes of PCOS and markers of PCOS risk in children and male relatives. Dr. Dunaif is a published author of many scientific articles and book chapters, and she has received numerous awards and honors throughout her career for advancements in patient-oriented research and clinical investigation.
Anna Goldman, MD, received her medical degree from the Perelman School of Medicine at the University of Pennsylvania. She trained in internal medicine at the Icahn School of Medicine at Mount Sinai, where she also served as chief resident. She did her fellowship training in endocrinology at Brigham and Women's hospital, during which she conducted research in andrology. Dr. Goldman is currently the associate program director for the endocrinology fellowship training program at BWH. Her career focus is on patient care in the areas of andrology, transgender care, diabetes, and medical education.