Join host Dr. Chase Hendrickson, Vanderbilt University Medical Center, for the May edition of Endocrine Feedback Loop. This episode, released May 20, 2021, will feature Dr. Imali Sirisena, Program Director at Temple University Hospital, and Dr. Shlomo Melmed, Executive Vice President, Dean, and Professor of Medicine at Cedars-Sinai Medical Center and leading expert in treating Cushing syndrome. This month's discussion will focus on an article from the May 2021 edition of The Journal of Clinical Endocrinology & Metabolism: "Acute and Life-Threatening Complications in Cushing Syndrome: Prevalence, Predictors, and Mortality."
Click here to login and listen to the episode!
Meet the Speakers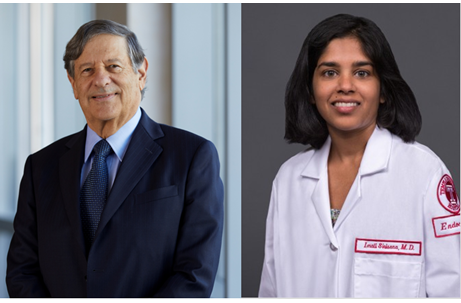 Shlomo Melmed, MBChB is Executive Vice-President, Dean, and a distinguished Professor of Medicine at Cedars-Sinai Medical Center. He is a Master of the American College of Physicians, and recipient of awards from the Royal Society of Medicine, the Endocrine Society, Society of Endocrinology, and Pituitary Society. His NIH funded laboratory is devoted to molecular pathogenesis and treatment of pituitary tumors. During his tenure, Dr. Melmed has mentored over 75 doctoral and post-doctoral trainees in endocrinology. He serves as an editor for The Pituitary, and co-edits Williams Textbook of Endocrinology; he is Editor-in-Chief of Pituitary and of Endocrinology. Dr. Melmed was President of the Pituitary Society, and of International Society of Endocrinology and currently serves as a director of the California Institute of Regenerative Medicine. He has coupled institutional leadership with a sustained impact on clinical medicine, and major translational discoveries in pituitary disease.
Imali Sirisena, MD, is an Associate Professor of Endocrinology at the Lewis Katz School of Medicine at Temple University in Philadelphia. A native of North Carolina, she completed medical school at New York Medical College and internal medicine residency at Montefiore Medical Center in Bronx, NY. She completed endocrinology fellowship at the University of Pennsylvania. Dr. Sirisena currently serves as program director for the endocrine fellowship program at Temple University Hospital.