Overview:
The initial evaluation of all Graves' patients should include an evaluation for thyroid eye disease (TED) and, when present, particular attention should be paid to disease activity, disease severity, and the impact on the patient's quality of life. These elements will shape the therapeutic approach which should be pursued in a multi-disciplinary manner, with the endocrinologist and the ophthalmologist. This team can work together to modify risk factors, normalize thyroid function tests and recommend treatments. Patients with mild disease generally benefit from local therapies and selenium, while patients with moderate-to-severe disease usually require the addition of intravenous glucocorticoids +/- orbital radiation. If there is an inadequate response to glucocorticoid therapy, several second-line therapies have been investigated for use, including rituximab, cyclosporine, mycophenolate mofetil, methotrexate, and azathioprine. New biologic agents, including teprotumumab and tocilizumab, have demonstrated impressive reductions in disease activity, severity and improvement in quality of life. Teprotumumab was recently approved by the FDA for treatment of TED. As new treatment options emerge, the treatment paradigm for TED will continue to evolve.
Speakers: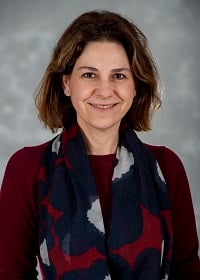 Chrysoula Dosiou, MD
Stanford University School of Medicine
Chrysoula Dosiou, MD, MS is a Clinical Professor in the Division of Endocrinology at Stanford University School of Medicine, Medical Director of the Stanford Thyroid-Eye Clinic, and Program Director of the Stanford Endocrinology Fellowship. She obtained her undergraduate degree from Harvard College and her medical degree from Harvard Medical School. Following completion of her internal medicine residency at University of California, San Francisco, Dr. Dosiou obtained her fellowship training in Endocrinology and Metabolism and a Master of Science degree in Clinical Epidemiology at Stanford University. Since joining the faculty at Stanford, her clinical focus has been the care of patients with thyroid disease, with a special interest in the management of thyroid disease in pregnancy and the care of patients with thyroid-associated ophthalmopathy.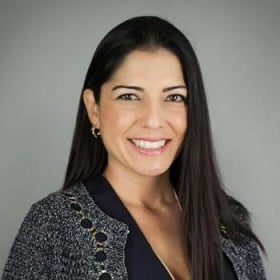 Andrea Kossler, MD
Stanford University
Andrea Lora Kossler, MD, is Assistant Professor of Ophthalmology at Stanford University School of Medicine and Director of the Oculofacial Plastic, Reconstructive Surgery and Orbital Oncology Service at the Byers Eye Institute at Stanford. Andrea specializes in aesthetic oculofacial surgery, thyroid eye disease and orbital oncology. Dr. Kossler is Co-Director of the Stanford Multidisciplinary Thyroid Eye Disease Center and Director of the Stanford Aesthetic Eye Surgery Center. Dr. Kossler's research interests include the proteomic evaluation of the ocular surface, modulation of neural reflexes via neurotization and neurostimulation and evaluating targeted therapies for cutaneous and orbital malignancy.