Overview:
Women with type 1 diabetes mellitus (T1DM) can have healthy pregnancies with preparation and multidisciplinary care. For several months prior to and during pregnancy, glucose levels should be as close to normal as possible for optimal health of the mother and fetus. The goal hemoglobin A1c level before conception is less than 6.5% (<48 mmol/mol) and during pregnancy it is less than 6.0% (<42 mmol/mol) with avoidance of hypoglycemia. In planning for conception, women with diabetes should work with their diabetes team to prepare for pregnancy. However, up to 50% of pregnancies in women with diabetes are unplanned. Therefore, it is recommended to begin preconception counseling in early puberty and continue throughout the reproductive years. Women with hyperglycemia at the time of conception and in the first trimester during organogenesis have a much higher risk of having a baby with a congenital anomaly. During pregnancy, glycemic goals are as follows: fasting glucose less than 95 mg/dL (<5.3 mmol/L), postprandial glucose less than 140 mg/dL (<7.8mmol/L) at 1 hour after the start of the meal and less than 120 mg/dL (<6.7mmol/L) 2 hours after the start of a meal. During pregnancy, insulin sensitivity and therefore insulin requirements change dramatically. Due to increases in insulin sensitivity, women with T1DM are at risk for hypoglycemia, especially in the first trimester of pregnancy. Insulin requirements increase significantly during the second half of pregnancy, as women require 2 to 3 times preconception insulin dosing at the time of delivery. Postpartum, insulin requirements plummet to preconception requirement levels and maybe even lower for women who are breastfeeding.
Speaker: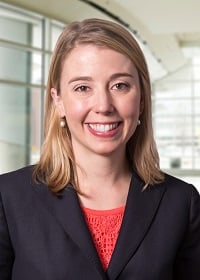 Elizabeth Buschur, MD
Ohio State University Medical Center
Elizabeth Buschur is an Assistant Clinical Professor at the Ohio State University Wexner Medical Center. Dr. Buschur graduated magna cum laude from Washington and Lee University in Virginia with a bachelor of science degree in neuroscience. She then attended the University of Texas Health Science Center in San Antonio for medical school and graduated AOA. She completed internal medicine residency and endocrinology fellowship at the University of Michigan. She also completed a women's health fellowship at the University of Michigan and served as a clinical lecturer following completion of her fellowship. She has been an Assistant Clinical Professor at the Ohio State University Wexner Medical Center since 2014 and is active in the Gold Humanism Honor Society. She is the director of the Transition Clinic for emerging adults with type 1 diabetes at the Nationwide Children's Hospital. In addition, she created an Endocrine Disorders in Pregnancy Clinic where she sees patients with diabetes, thyroid disease, and other endocrine problems during pregnancy and postpartum. She is the site Principal Investigator for the JDRF sponsored two-site clinical trial Pregnancy Intervention with a Closed Loop System (PICLS) study with the Barbara Davis Center and is actively recruiting subjects for this exciting research.