National Volunteer Week: April 18-24, 2021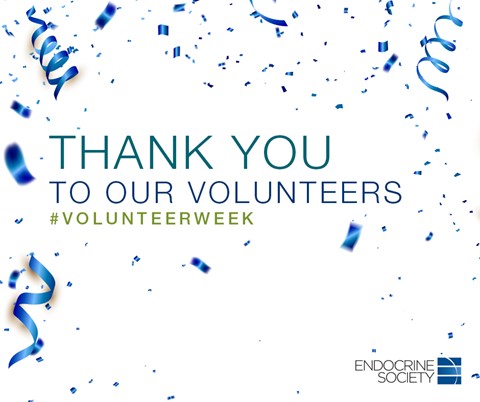 It's National Volunteer Week. Our volunteers play a pivotal role in advancing endocrinology, championing key public health issues, and designing programs and services that greatly support our members.

Each day this week, we will highlight and thank volunteers for their contributions to our mission on our social media channels: Twitter @TheEndoSociety, Facebook @EndocrineSociety, and Instagram @theendocrinesociety.
Monday:

Volunteer week kickoff

Tuesday:

Task forces, working groups, and Special Interest Groups

Wednesday:

Committees, Special project volunteers

Thursday:

Volunteer stories from our members

Friday:

Discover new ways you can stay involved!
We encourage the entire community to participate in our Volunteer Week campaign by sharing the social media graphics below. Be sure to tag us in your posts and use the hashtag #VolunteerWeek!
Facebook:
Twitter:
Instagram: