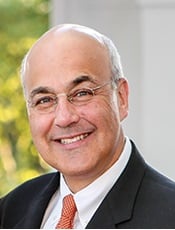 By Robert Lash, MD, Interim CEO, Chief Professional and Clinical Affairs Officer
We made it through 2020, a year of personal and professional challenges for all of us, but what does 2021 hold in store? For many of us, it still feels like 2020, but the promise of vaccinations provides a bright light at the end of a long tunnel.
Until we're all vaccinated, how will we comport with the ongoing need for social distancing? How will we overcome continuing disruption and uncertainty in our lives? And through it all, how will we make the best of our changing environment?
At the Endocrine Society, we're asking these questions every day as we work to provide the best educational and career-development opportunities for our more than 18,000 members worldwide.
Fortunately, our member-leaders, staff, and technology platforms are up to this challenge. We're not just holding steady in 2021, we're working to create new programs and expand the ways that we deliver enhanced member value in both the virtual and real worlds.
Let's start with ENDO 2021, which takes place virtually March 20-23. This is ENDO. The real thing. Not the abbreviated online meeting that we pivoted to last year when faced with the emerging pandemic. Four days of education, cutting edge research, and networking. Just take a look at what we have planned:
70-plus live sessions
70-plus on-demand sessions
6 plenary sessions including 2 presidential plenaries
24 live meet-the-professor sessions and another 20 available on-demand
20-plus oral abstract sessions
2,000-plus posters of scientific abstracts
A look at our Schedule at a Glance underscores the world-class depth and breadth of these offerings.
But we also know that our members come to ENDO to network and meet with colleagues old and new. We've worked hard to create as much of an in-person feeling for ENDO attendees as possible. ENDO 2021 will provide a state-of-the-art online conference portal that will allow you to gather with fellow attendees in virtual chat rooms and explore our conference exposition hall.
Member Value is at Core of Everything We Do
We're proud of ENDO 2021 but we also recognize that our members are looking for compelling programs and opportunities throughout the year and wherever they live. Bringing you that member value is at the core of everything we do. And it underlies three of our 2021 strategic priorities: diversity and inclusion, digital education and virtual engagement, and global leadership.
Efforts around diversity and inclusion include addressing health disparities in research and clinical care. Our advocacy department works with U.S. and international lawmakers and regulators in support of our goals to make health care delivery and research more equitable. Closer to home, we have our popular FLARE program, which supports minority scientist career development. Later this year, we will be launching our new ExCEL (Excellence in Clinical Endocrinology and Leadership) program, providing training and mentorship for clinical fellows and early career endocrinologists from underrepresented groups.
We recognize that serving an international membership requires new ways of thinking about digital education and virtual engagement. To that end, we've expanded the breadth of our Special Interest Group (SIG) webinars and activities, and we are providing new opportunities for members to engage through Community Connect. We also will be implementing a new learning management system that will make it easier for members to navigate our educational offerings and earn CME and MOC credits.
On the global leadership front, we will continue to make sure ENDO remains the "must-attend" meeting for the global endocrine community. You will also be seeing new options for meeting attendance worldwide, including hybrid in-person/virtual meetings and time-shifted sessions. Our goal is to provide you with the best of endocrine education, around the clock and around the world.
Over the past year, we have worked to view disruption as a path to innovation and creative change. We're proud that the Endocrine Society has stood out among its peers in weathering the challenges of last year. Together, we've emerged stronger than ever to provide the member value that you have come to expect.
We hope you'll stay tuned to this blog for announcements, occasional musings, and other behind-the-scenes views of how we're making 2021 our most exciting year yet.