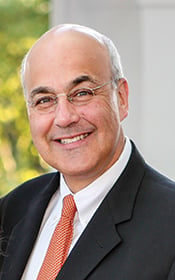 The Endocrine Society has named Robert W. Lash, M.D.—an endocrinologist with more than 25 years of experience in the field—as its interim CEO.

Lash joined the Society as its Chief Professional & Clinical Affairs Officer in 2017.

"Rob brings a rare depth and breadth of knowledge and experience in endocrinology to the role" said Society President Gary D. Hammer, M.D., Ph.D. "His leadership will keep steady our standing as the world's largest professional endocrine organization, accelerating scientific research and advances in clinical care."

As a subject matter expert, Lash represents the Society in outreach to scientific and medical societies, policymakers and journalists.

The announcement comes a week before the opening of the Society's largest-ever meeting, ENDO Online 2020. More than 19,000 people worldwide have registered to attend the virtual event, which will be held from June 8-22.

"I am honored to be asked to lead the Society during this time of great challenge and opportunity," Lash said. "Our Society leaders and staff are proud to be a unifying force supporting our professional community as we navigate these circumstances together."

Lash spent 20 years at the University of Michigan in Ann Arbor, Mich., where he was a Professor of Internal Medicine at the University's Medical School and Chief of Staff for Clinical Affairs at Michigan Medicine, the university's health care system.

Earlier in his career, he was Assistant Professor of Internal Medicine at the University of Maryland School of Medicine in Baltimore, Md. He did his endocrine fellowship at the National Institutes of Health's National Institute of Diabetes and Digestive and Kidney Diseases. As an active Society volunteer, Lash chaired the Clinical Affairs Core Committee.

Lash graduated with his Doctor of Medicine degree from Albert Einstein College of Medicine in New York, N.Y. He earned his Bachelor of Arts degree from Dartmouth College in Hanover, N.H.

The Society has appointed a search committee to select the organization's next CEO.
About Endocrine Society
Endocrinologists are at the core of solving the most pressing health problems of our time, from diabetes and obesity to infertility, bone health, and hormone-related cancers. The Endocrine Society is the world's oldest and largest organization of scientists devoted to hormone research and physicians who care for people with hormone-related conditions.
The Society has more than 18,000 members, including scientists, physicians, educators, nurses, and students in 122 countries. To learn more about the Society and the field of endocrinology, visit our site at www.endocrine.org. Follow us on Twitter at @TheEndoSociety and @EndoMedia.