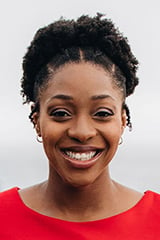 Dr. Dequina Nicholas is a new Assistant Professor at the University of California Irvine in the Department of Molecular Biology and Biochemistry starting July 2021. Her work focuses on how the immune system and cellular metabolism impacts endocrine diseases, particularly type 2 diabetes and polycystic ovary syndrome. Dr. Nicholas received her Ph.D in biochemistry from Loma Linda University and pursued additional postdoctoral training in the laboratory of Dr. Barbara Nikolajczyk at Boston University, studying the metabolism of immune cells from patients with type 2 diabetes. While finishing her current position as a postdoctoral fellow at the University of California San Diego, Dequina is investigating the impact of inflammation and metabolism on reproduction. Dr. Nicholas is excited to build her "ImmunoEndocrine" lab and train the next generation of scientists. She has a passion for fitness and enjoys mentoring, especially first-generation students like herself on their scientific journey.

What is your favorite Endocrine Society memory?
My favorite memory was during a FLARE session. I shared my career goals and my desire to normalize black female scientist to the general public. Dr. Dale Abel told me he "sees me." Hearing that phrase from the President of the Endocrine society was immensely validating and from that point on, I knew I would have the support of the society in achieving my goals.

What advice would you give for someone looking to become more involved in the Endocrine Society?
Don't wait! If you are a trainee apply for the FLARE program and the Early Career Forum. Fill out your Endocrine Society Volunteer profile. There are so many opportunities to get involved. Make yourself available.

How has the Endocrine Society supported your professional development/career journey?
As a FLARE alumna, I have the opportunity to intern on the Committee for Diversity and Inclusion (CoDI). Being on CoDI has been immensely fulfilling, has brought me opportunities for service, and importantly has broadened my professional network. I have been able to learn about the structure of our society and how it is managed. I have been able to suggest new initiatives in publishing for Endocrine Society journals and have also been able to volunteer as a mentor in a CoDI session during virtual ENDO2021. During annual Endocrine Society meetings, I have et new colleagues, exchanged techniques and protocols for research, and even received feedback for a grant that is now funded. I know as time progresses; the Society will support me in achieving Tenure in my new position through the amazing mentors I have access to.

What do you like to do in your spare time?
In my spare time, I love doing crossfit and lifting heavy weights. It is so empowering to feel strong physically and intellectually. If I am not working out with my husband, then we are constantly going on adventures to explore new foods or cool scenery. Currently most of my spare time is spent hanging out with my new 5-month-old baby girl.

If you could ask your peers in Endocrinology one question, what would it be?
What is your expertise/field of research and why do you love it?