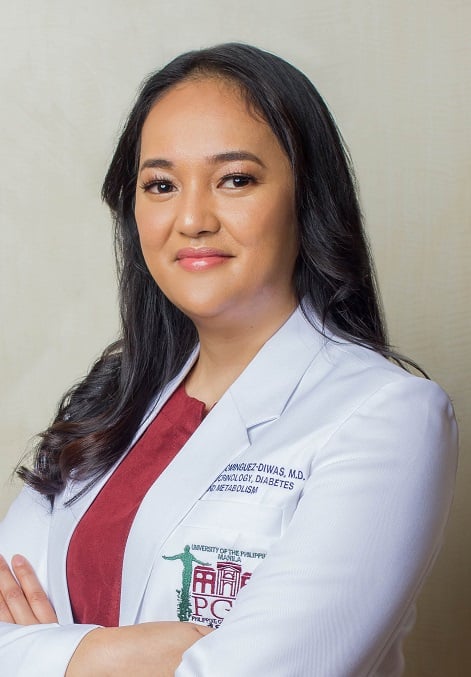 Hydelene Beray Dominguez, MD, earned her medical degree from St. Louis University in Baguio City, Philippines, where she also completed her undergraduate studies and graduated Cum Laude with a bachelor's degree of science in biology. Dr. Dominguez trained and served as chief fellow in the Department of Medicine SLU-Hospital of the Sacred Heart, Baguio City. She currently is in training and serves as chief fellow of the Division of Endocrinology, Diabetes and Metabolism of the Philippine General Hospital, where her knowledge, skills and wisdom are being enhanced. Her work includes research on thyroid conditions and diabetes, topics in which she hopes her findings will help Filipino patients. Dr. Dominguez also intends to expand her research into adrenal and bone health in the future.

Dr. Dominguez considers herself a simple girl who comes from a tribe in the Philippines' Northern Provinces, and she wishes to give back to her community. She strongly believes that high self-awareness, self-discipline, and having clear visions can make someone a servant leader and a passionate individual who aims for excellence in everything.

She is married to Joven Diwas and they are planning to have a small family in the future.

What is your favorite Endocrine Society memory?
My favorite Endocrine Society memory is when I was selected as the first-ever awardee for the Bardin Wayne C. International travel award. This award is not only for me but to all the people behind it, especially my patient who gave me the opportunity to learn from him and help him in some way.

What advice would you give for someone looking to become more involved in the Endocrine Society?
Endocrine Society is a prestigious society that helps physicians, not just endocrinologists, in giving out knowledge and innovations that can help them better manage patients.

How has the Endocrine Society supported your professional development/career journey?
As a young doctor and being chosen as the first awardee for the Bardin Wayne travel awards, this not only boosted my confidence as a person, but it also inspired me to keep moving forward into research to look for answers to help in patient management.

What do you like to do in your spare time?
Before the pandemic, I loved to travel. I want to meet and talk to people and learn different cultures. During this pandemic, I love to watch educational agricultural videos. I dream to have a farm where I can retire in the future.

If you could ask your peers in Endocrinology one question, what would it be?
I am interested to know why of all the medicine specialty, why did you choose endocrinology as a subspecialty?