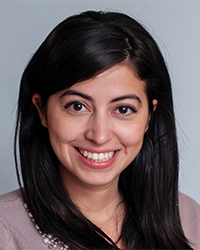 Dr. Luz Castellanos is a Pediatric Endocrinology Fellow in the Department of Pediatrics at Massachusetts General Hospital, and a Clinical Fellow at Harvard Medical School.
How did you become interested in the field of endocrinology?
My passion for endocrinology stemmed from being diagnosed with Graves' disease when I was 14 years old. Although I did not understand my diagnosis well, I was fascinated by the systemic effect thyroid hormones could have and the remarkable difference I felt after treatment. My understanding of the field and respect for its complexity has deepened since attending medical school at McGovern medical school and then pediatric residency at Dell Children's Hospital in Austin. I have truly enjoyed the academic stimulation produced in diagnosing and managing endocrine patients during my pediatric endocrine fellowship at Massachusetts General Hospital for children. Under the guidance of my mentor, my research has focused on clinical trials of artificial pancreas technology in type 1 diabetes which I am also interested in applying to unique patient populations.

What is your favorite Endocrine Society memory?
My favorite Endocrine Society memory was ENDO 2020. I was truly amazed that the society was able to so quickly transition from an in-person to completely virtual meeting. It gave me hope that despite everything being shut down during the pandemic, that tens of thousands of people were still able to come together.
What advice would you give for someone looking to become more involved in the Endocrine Society?
There is a niche for everyone in Endocrine society. Follow your passion and you will connect with others who are also interested. An easy way to do this is by looking at what special interest groups appeal to you.
How has the Endocrine Society supported your professional development/career journey?
Over the past few years, my interests in endocrinology have matured through exposure to research that Endocrine Society has published in its excellent journals. I have also been using the Pediatric Endocrine Self-Assessment program throughout my fellowship to prepare for the upcoming board certification exam.
What do you like to do in your spare time?
I enjoy listening to audiobooks and discovering new music. During the pandemic, I've also been learning about a hodgepodge of fun activities including brewing cider, playing ukulele, and taking care of indoor plants.
If you could ask your peers in Endocrinology one question, what would it be?
What do you love about your job?