Kristien Boelaert MD, PhD, MRCP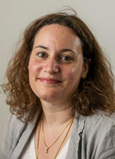 I obtained my MD from the Catholic University Leuven, Belgium, a Wellcome Trust-funded PhD from the University of Birmingham and a prestigious Clinician Scientist Fellowship from the MRC. My clinical research interests include the management of thyroid dysfunction, nodules and endocrine disorders in pregnancy and I lead one of the largest thyroid services in the UK.
My laboratory research programme focuses on the pathogenesis of thyroid cancer. I am the national lead for NICE Guidelines on Thyroid Diseases and am a member of the Task Force for the RCOG Green Top Guidelines for Management of Thyroid Diseases in Pregnancy. I have previously served on the Committee for UK guidelines on Thyroid Cancer Management. My research continues to attract funding from major grant awarding bodies and is evidenced by a rapidly growing list of publication and numerous invitations to speak at international conferences.
I was awarded the Endocrine Related Cancer "Women in Endocrine Cancer Award" in 2016. I am a Senior Editor for Endocrine Connections and BMC Endocrine Disorders and serve on the Editorial Boards of several endocrine journals including Lancet Diabetes & Endocrinology and Thyroid as well as the BTA Executive Committee, the RCP Specialist Certificate Examination Board and the Endocrine Society Self-Assessment Committee. I am a facilitator on the Society for Endocrinology Clinical Update Programme and a contributor to the ETA Clinical Update course.