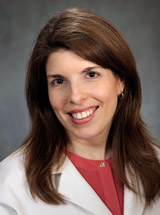 Carrie M. Burns, MD, is an Associate Professor of Medicine at the University of Pennsylvania where her main clinical expertise lies in comprehensive diabetes care, with a special focus in diabetes in pregnancy. Her practice also has a focus on the clinical care of patients with thyroid disease and osteoporosis.
Dr. Burns is dedicated to teaching, and she coordinates the Endocrinology course for first year medical students at the Perelman School of Medicine and is one of the core faculty that teaches endocrinology fellows in Diabetology. She is also involved in EHR optimization and implementation in inpatient and outpatient settings for the department of medicine at Penn. More recently, this has dovetailed into being the division's lead in telemedicine during the COVID-19 emergency.
Dr. Burns graduated from Rutgers College and attended Rutgers Robert Wood Johnson Medical School. She completed her residency in Internal Medicine at Brown University, followed by an endocrine fellowship at the University of Pennsylvania.