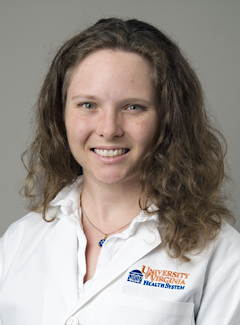 Christine Burt Solorzano, MD, (pronouns: she/her) is a pediatric endocrinologist who grew up in Harrisonburg, VA. She attended UVA for college, medical school, pediatric residency and chief residency. She trained at Children's Hospital Los Angeles for her pediatric endocrinology fellowship and returned to UVA as faculty in 2008.
Besides seeing patients, Dr. Burt Solorzano is a clinical investigator studying early etiologies of polycystic ovary syndrome in girls, and is involved in multi-center studies for types 1 and 2 diabetes in children. She is medical director of the UVA Children's Fitness Clinic and co-director of the UVA Children's Hospital Transgender Health Clinic. She created the UVA Go Girls! fitness support group, which uses dance to promote physical activity and healthy living in youth.

Dr. Burt Solorzano values time with her husband, two children and puppy. In her free time, she enjoys singing, dancing (especially ballet or salsa dance), karate with her family, bird-watching and crafts.