Alan C. Dalkin, MD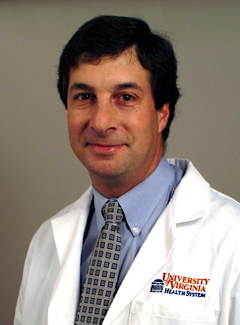 Dr. Dalkin attended the University of Michigan for both college and medical school, graduating in 1984. He then completed a residency program in Internal Medicine at The University of Chicago. From there, he returned to The University of Michigan for a fellowship in Endocrinology and Metabolism. He remained on faculty in Ann Arbor for one year after completing his training. He then joined the faculty at the University of Virginia, where he remains for the past 28 years. He is currently a Professor of Medicine in the Division of Endocrinology. He serves as Vice Chairman for the Department of Medicine, having numerous roles in departmental operations and leading the effort in faculty development along with Promotion and Tenure.
Dr. Dalkin serves on the Residency Review Committee for The American Council on Graduate Medical Education, which reviews all residency training programs across the country in Internal Medicine. He also leads the annual production of educational and testing products for The Endocrine Society, the leading organization for academic endocrinology.
His clinical work is predominantly in the area of metabolic bone disease with an emphasis on osteoporosis and hyperparathyroidism. Dr. Dalkin has been recognized for his clinical work with a number of awards including departmental recognition such as Attending of the Year, and having been selected to America's Top Doctors and Best Doctors in America along with having been recognized with an award for best Bedside Manner.
He has published numerous articles in peer-reviewed journals such as Endocrinology, Biology of Reproduction and the Journal of Clinical Endocrinology and Metabolism. He has authored a number of invited reviews in the area of osteoporosis. Dr. Dalkin has been invited to deliver numerous local, state-wide and national presentations in the area of osteoporosis, metabolic bone disease and disorders of vitamin D.