Thomas Giordano, MD, PhD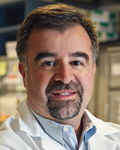 Dr. Giordano received his B.A. from Johns Hopkins University in 1983 and earned his M.D. and Ph.D. through a combined program at Rutgers University and UMDNJ - Robert Wood Johnson Medical School. His graduate studies in the department of Microbiology involved regulation of gene expression by phage T3 and T7 RNA polymerases. He completed residency training in Anatomic Pathology at the National Cancer Institute and fellowship training in Oncologic Pathology at Memorial Sloan-Kettering Cancer Center. After AP training, he joined the faculty of the Department of Pathology at the University of Michigan Medical School as Assistant Professor, was promoted to Associate Professor in 2001, and Professor in 2008. He also holds a joint appointment in the Metabolism and Endocrinology Division of the Department of Internal Medicine.
Dr. Giordano has interests in the molecular biology of endocrine neoplasia and maintains an active translational research program using contemporary molecular and genomic profiling techniques to address problems in endocrine and other types of oncologic pathology. He is Director of the Tissue and Molecular Core of the Michigan Rogel Cancer Center, Director of the Molecular Pathology Research Laboratory in the UM Department of Pathology, a former member of AP Test Committee for the American Board of Pathology, and past President of the Endocrine Pathology Society. Recently, he has become very involved in The Cancer Genome Atlas (TCGA) program of the NCI and NHGRI, where he serves as co-Chair of the Thyroid and Adrenocortical projects, member of the Pheochromocytoma Analysis Working Group, and member of the Steering Committee for their final Pan-Cancer project.
Dr. Giordano is board-certified in Anatomic Pathology.