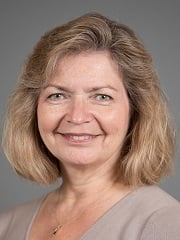 Dr. Ursula Kaiser is Chief, Division of Endocrinology, Diabetes and Hypertension and George W. Thorn, MD Distinguished Chair in Endocrinology at Brigham and Women's Hospital, Professor of Medicine at Harvard Medical School, and Director of the Brigham Research Institute. Before arriving at Brigham and Women's Hospital, she received her medical degree and completed her clinical residency in Internal Medicine and fellowship in Endocrinology at University of Toronto Medical School. Her clinical interests focus on neuroendocrinology and reproductive endocrinology.

Dr. Kaiser has an active research program focused on the genetic and molecular mechanisms underlying the neuroendocrine regulation of puberty and reproduction. Her research has received continuous NIH support for more than twenty years. She also serves as Program Director of the NIH-funded Building Interdisciplinary Research Careers in Women's Health (BIRCWH) K12 program to train junior faculty in women's health research, and the Principal Investigator of an NIH T32 training grant to train physicians and scientists in academic endocrinology. She is the recipient of the A. Clifford Barger Excellence in Mentoring Award at Harvard Medical School

Dr. Kaiser is a past Vice President of the Endocrine Society and is currently a Deputy Editor of The Journal of Clinical Endocrinology & Metabolism and a member of the Finance and Audit Committee. She has served in a range of additional capacities across the Endocrine Society, including member and Chair of the Student Affairs Committee, member and Team Lead (Female Reproduction) of the Annual Meeting Steering Committee, member and Chair of the Laureate Awards Committee, and Chair of the Basic Science Task Force. She has also served in numerous capacities, including President, for Women in Endocrinology. She is the recipient of the Ernst Oppenheimer Award of the Endocrine Society and has been selected to receive the 2021 Sidney H. Ingbar Award for Distinguished Service from the Endocrine Society for her contributions to the society and the field at large. Dr. Kaiser is also a member of the American Society of Clinical Investigation and the Association of American Physicians, and she is a member of the Board of Scientific Counselors for the Eunice Kennedy Shriver National Institute of Child Health and Human Development.