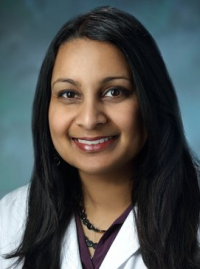 Dr. Kalyani is an Associate Professor of Medicine in the Division of Endocrinology, Diabetes & Metabolism at Johns Hopkins University School of Medicine. She graduated with an undergraduate degree from Harvard College and completed her medical degree, residency, and fellowship at Johns Hopkins.
Dr. Kalyani is an active clinician and sees patients regularly in the Johns Hopkins Comprehensive Diabetes Center. She directs the Diabetes Management Service for Johns Hopkins' Total Pancreatectomy Islet Auto Transplant Program.
A recipient of NIH grant funding, Dr. Kalyani's research focuses on diabetes and aging and investigates accelerated muscle loss, disability, and frailty in older adults with diabetes. Other research interests include sex differences in diabetes and heart disease and physical functioning in other endocrine and metabolic diseases. She has served on the editorial boards of several diabetes research journals and has authored more than 125 peer-reviewed publications.
Dr. Kalyani is a past Chair of the American Diabetes Association's Professional Practice Committee which is responsible for the annual clinical guidelines statement, "ADA Standards of Medical Care in Diabetes." She is the Editor-in-Chief of the Johns Hopkins Patient Guide to Diabetes website. Dr. Kalyani currently serves on the Clinical Guidelines Committee for the Endocrine Society.