Carol Levy, MD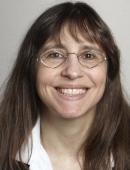 Dr. Carol Levy is an Associate Professor in the Department of Medicine, Division of Endocrinology, Diabetes and Bone Disease, and an Associate Professor in the Department of Obstetrics, Gynecology and Reproductive Science. She is a board-certified Endocrinologist and Certified Diabetes Educator. She completed and her Endocrinology fellowship at Joslin Diabetes Center.
Dr. Levy is the Director of the Mount Sinai Diabetes Center and Type 1 Diabetes Clinical Research. She is known as a clinical expert in type 1 diabetes and diabetes in pregnancy. As the Director of the Diabetes Center, she leads a clinical team of 15, including physicians, NPs, RDs and RNs and CDEs. She has mentored and trained numerous faculty, fellows and students. Her clinical interests include the use of technology in type 1 diabetes management and the care of pregnant women with diabetes in pregnancy.
She is the Director or the Mount Sinai Artificial pancreas program and leads her research team at Mount Sinai as site PI for the evaluation of multiple closed loop systems including most recently the first NIH funded study evaluating a customized closed loop system designed for pregnancy. The goal of all of these studies is to improve the lives of people with diabetes.
EBR/CEU Disclosures