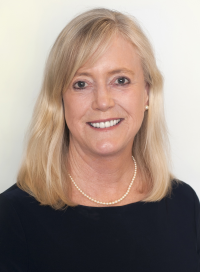 Board of Directors, At Large
Assistant Professor of Medicine at Harvard Medical School
Senior Deputy Editor for Endocrinology and Patient Education at UpToDate
Boston, MA
Dr. Kathryn A. Martin, an Assistant Professor of Medicine at Harvard Medical School, has been a faculty member and practicing clinician in the Reproductive Endocrine Unit at Massachusetts General Hospital since 1989. In addition to her clinical practice, she has an active teaching role and is involved in the training and supervision of junior faculty members and endocrine fellows. Dr. Martin is also the Senior Deputy Editor for Endocrinology and Patient Education at UpToDate, an online clinical reference for physicians. Dr. Martin earned a bachelor's degree at Dartmouth College and a medical degree at Dartmouth Medical School. She completed a residency in internal medicine at Emory University Affiliated Hospitals and a fellowship in Endocrinology at Massachusetts General Hospital. Kathryn has been active in a number of Endocrine Society committees, including four years as Chair of the Clinical Guidelines Subcommittee. She was also the Chair of the Task Force and first author of the Clinical Guideline: Evaluation and Treatment of Hirsutism in Premenopausal Women, initially published in 2008, with a revision published in 2018. She was a member of the Nominating Committee and served as Chair for two years. Kathryn has written and lectured extensively on her particular area of expertise: evaluation and management of menopausal women. She was an author on reviews of menopausal hormone therapy in Science and the New England Journal of Medicine, and first author on "Approach to the patient with postmenopausal symptoms" in JCEM. She was also a co-author on two Endo Soc Scientific Statements: "Executive Summary: Postmenopausal hormone therapy" and "Compounded Bioidentical Hormones in Endocrinology Practice".
The 3 key things I hope to learn during orientation are:
Improve my communication skills as a leader and Board member
Learn new strategies to encourage the editors I manage to generate and own new ideas and solutions
Strategies for managing intra-organizational politics and/or "difficult people"
I am excited to be part of the Endocrine Society leadership team because:
I thoroughly enjoyed my two years as an Ex-officio member of Council (while Chair of the Nominating Committee), and am eager to return in an official capacity.
Tell us about when and why you joined the Endocrine Society.
I joined the Endo Society in 1986 - at the end of my first year of endocrinology fellowship. My entire MGH fellowship group joined that year in order to attend Endo 1986. The meeting made a lasting impression on me and it has been my professional home ever since.
My favorite Endocrine Society moment or experience is:
Although it was quite challenging, I think my four years as Chair of the CPG committee has been my favorite Endo experience. We published 15 guidelines during my 4 years.
I believe that the Endocrine Society's significant organizational strengths are:
The ES Staff!
The enthusiasm of ES members for volunteering and serving on committees
Revised committee structure based upon the GTF report, including focused task forces
I think that these 3 areas are opportunities for growth and improvement in the Endocrine Society:
Clinical guidelines - implementing the changes outlined in the CPG TF report (in particular, global reach/global center)
Leadership pipeline - establish the "leadership training toolkit"
Address concerns of clinicians: Practice burdens (EHR, low reimbursement, uncompensated care); new clinicians (loans)
How would you describe your approach to collaboration and team decision making?
I consider myself to be a team player and a consensus builder. I work on several team projects, but also have a number of leadership roles at UpToDate - I take on new tasks often, have good interpersonal skills, and am respectful of my colleagues.
I would describe my top 3 leadership strengths as:
Consensus builder (ability to listen to others' points of view)
Respect for colleagues
I communicate well with my colleagues
As leaders, we all strive to continuously improve. What would you like to improve in terms of your leadership skills?
see my answers to question #2
The one thing that most people may not know about me is:
Music has always been a passion of mine. I am primarily a singer, but played many instruments beginning in 3rd grade: piano, flute, clarinet, and guitar. While at Dartmouth College, I directed the women's a cappella group. One of my brothers and I had an unusual 4- year gig at the local church - we provided all music for weddings and funerals (I sang, John played the organ, we had standard programs and did not entertain requests). We did not get rich- $10 for weddings, $5 for funerals. We were quite good....although there was one disastrous performance that ruined a couple's wedding...…..
My hobbies are:
Music, gardening, hanging with my dogs, skiing
Fun facts about myself:
Favorite color: Blue
Favorite food: Pasta
Favorite movie genre: Indie films
Favorite book genre: Fiction - book group books
Favorite music genre: Female vocalists (many!), Funk/R&B (early artists), Jam bands (ABB, My morning jacket)
Favorite portable snack: yogurt?