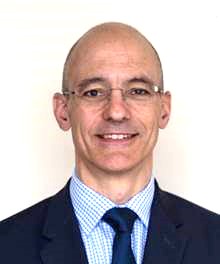 Board of Directors, At Large
Professor of Endocrinology
University of Sheffield
Sheffield, United Kingdom
John Newell-Price is Professor of Endocrinology at the University of Sheffield. He qualified in medicine at the University of Cambridge and undertook his clinical endocrine specialist training at St Bartholomew's Hospital in London, where he was also a Medical Research Council Training Fellow for his PhD. Since 2000, he has been at the University of Sheffield, and Sheffield Teaching Hospitals NHS Foundation Trust where he is the Lead for the supra-regional Specialised Endocrine Services and for the Sheffield ENETS European Centre of Excellence for Neuroendocrine Tumours. His research interests include glucocorticoids, pituitary and neuroendocrine tumours. John is passionate about patient care, and works closely with patient groups and charities, and has led on developing the Quality Care Dashboards that are used to monitor standards of care for Specialised Endocrine Services in the NHS, England. He was Senior Editor of 'Clinical Endocrinology' 2016-2020, and co-authors on three International Clinical Practice Guidelines, including those for Adrenal Incidentaloma (2016) for the European Society for Endocrinology. For the Endocrine Society John has served as a member of the Annual Meeting Steering Committee (2012-2015) and was overall Chair of Endo 2018 in Chicago. He has served on two Clinical Guideline task forces for Diagnosis of Cushing's (2008) and Treatment (2015). He served on Task Force for Clinical Scientists 2013-2014, Education sub-committee 2017-2018 and the Governance Task Force 2018-2019, is a current member of the Clinical Practice Guideline Committee (2019-2022) and was on the Editorial Board of JCEM 2011-2013. Elsewhere, he chaired The Royal College of Physicians, UK Joint Specialist Committee for Diabetes and Endocrinology (2012-2016), The Society for Endocrinology Clinical Update Programme (2012-2015), Medical Committee of the Pituitary Foundation (2006 to date), where he is also a trustee, and is Research Lead for the Clinical Reference Group for Specialist Endocrinology NHS England, Chair of the UK and Ireland Neuroendocrine Tumour Society, and serves on the Society for Endocrinology Clinical Committee.
The 3 key things I hope to learn during orientation are:
What's expected of a board member?
How can board members really make a difference?
What immediate priorities does the board have for 2020?
I am excited to be part of the Endocrine Society leadership team because:
It is so well structured, the people so smart, and it has always been a pleasure working with the ES.
Tell us about when and why you joined the Endocrine Society.
I joined back I 1995 (I think), or a t least I gave mum first very scary oral communication then as a fellow.
My favorite Endocrine Society moment or experience is:
Chairing Endo 2018 - one of the most rewarding experiences in my career.
I believe that the Endocrine Society's significant organizational strengths are:
Careful governance, outward looking attitude, inclusivity.
I think that these 3 areas are opportunities for growth and improvement in the Endocrine Society:
Internationalism more generally
Closer links with other Societies
Greater perception that it is not just a 'US" society – a view held across the pond by many
How would you describe your approach to collaboration and team decision making?
Representative words:
Listening, inclusion, constructive challenge, trust, shared values, respect, honesty
I would describe my top 3 leadership strengths as:
Listening
Inclusivity
Integrity
As leaders, we all strive to continuously improve. What would you like to improve in terms of your leadership skills?
Operational activities
The one thing that most people may not know about me is:
In a former life before medicine, I used to design holes in biscuits
My hobbies are:
Cycling, paddle boarding, tennis
Fun facts about myself:
Favorite color: Purple
Favorite food: Italian
Favorite movie genre: Thriller
Favorite book genre: too many!
Favorite music genre: Rock n roll!
Favorite portable snack: fruit