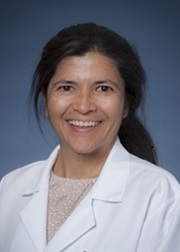 Dr. Rocio ("Ro") Pereira is the Chief of Endocrinology at Denver Health and Associate Professor of Medicine at the University of Colorado School of Medicine, Division of Endocrinology, Metabolism, and Diabetes. She also leads the Denver Health Diabetes QI Committee, and she is the Founder/Director of a community-based lifestyle intervention program for Latino immigrants.
Dr. Pereira was born in Lima, Peru and immigrated to the U.S. with her family as a child. She grew up in the Boston area, and earned her undergraduate degree from the University of Rochester in upstate New York. She completed Medical School, Internal Medicine Residency, and Endocrinology Fellowship at the University of Colorado, and joined the Denver Health staff and the University of Colorado Faculty after Fellowship.
The primary focus of Dr. Pereira's work is addressing health disparities in diabetes and obesity-related diseases. She actively collaborates with local and regional community partners including community organizations and public health departments with the goal of improving care and increasing access to prevention and healthcare services for underprivileged communities.
Dr. Pereira has been a member of the Endocrine Society since 2001. She is a former Chair of the Committee on Diversity and Inclusion (formerly Minority Affairs Committee) and current member of the Trainee and Career Development Committee. She has participated in many Endocrine Society workgroups and task forces and received the Endocrine Society Volunteer of the Year award in 2013. Dr. Pereira was selected to serve as an At-Large member of the Board of Directors starting in 2021.