Michael R. Rickels, MD, MS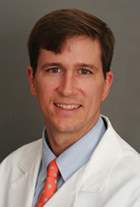 Dr. Rickels completed his undergraduate degree in mathematics and biology at Colgate University and medical and translational research degrees at the University of Pennsylvania, where he also trained in Internal Medicine and Endocrinology. He has since remained at Penn, holding appointments as Medical Director for the Pancreatic Islet Cell Transplant Program since 2008, Assistant Director of the Type 1 Diabetes Unit from 2005 – 2013, and now Director of the Translational Research Program in the Institute for Diabetes, Obesity & Metabolism (2013-present). Dr. Rickels has served as Associate Director for the Center for Human Phenomic Science from 2013-2018, and as Director of the Radioimmunoassay & Biomarkers Core for the Diabetes Research Center since 2015.
Dr. Rickels conducts patient-oriented diabetes research that aims at understanding the pathogenesis of different forms of diabetes and the in vivo mechanisms of new diabetes treatments. Present work in Type 1 Diabetes is focused on patients with long-standing disease and is examining the effects of islet transplantation or closed-loop insulin delivery on glucose counterregulatory defenses against hypoglycemia. Additional work in Cystic Fibrosis Related Diabetes is focused on understanding the pathophysiologic defects involved in the etiology of early defects in insulin secretion and the impact of different strategies for enhancing incretin effects on β-cell function early in the disease course.
Dr. Rickels' research is supported by the National Institutes of Health (NIH) where he has served as a reviewer on several special emphasis panels, as a permanent member of the Clinical and Integrative Diabetes and Obesity Study Section (2014-2018), and on the Restore Insulin Secretion DSMB (2012-present), the Cystic Fibrosis Foundation, and in the past by the Juvenile Diabetes Research Foundation where he served on the Clinical Investigations Study Section (2006-2008). Dr. Rickels has been an investigator for the Type 1 Diabetes Exchange Clinic Registry since 2011, and presently serves as Vice-Chair (2015-present), and which is supported by the Helmsley Charitable Trust. Dr. Rickels has chaired the metabolics study subcommittee for the NIH-sponsored Clinical Islet Transplantation consortium since 2004, and the publications and presentations committee for the NIH-sponsored Collaborative Islet Transplant Registry since 2010. He was elected councilor for the International Pancreas and Islet Transplant Association (2015-present). He has also served as member of the American Diabetes Association's Scientific Sessions planning committee (2012-2014), on the Editorial Boards of the Journal of Clinical Endocrinology and Metabolism (2009-2013), Cell Transplantation (2009-present), and as Associate Editor of Endocrine Reviews (2015-2018).