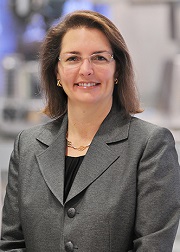 Dr. Carolyn L Smith is Professor of Molecular and Cellular Biology, and Urology at Baylor College of Medicine. She is also the Dean of the Graduate School of Biomedical Sciences.
She earned her doctorate at the University of Western Ontario where she studied plasma transport proteins for steroids, primarily corticosteroid binding globulin, and for her postdoctoral investigated cell signaling pathways and their cross talk with sex steroid receptors, primarily estrogen receptors. Dr. Smith's research interests focus on the molecular pharmacology of estrogen receptors, regulation of gene expression by transcriptional coactivators and corepressors, tamoxifen resistance in breast cancer, and steroid hormone action in urothelial carcinomas.
She has published over 100 papers, and been funded by the NIH, the American Heart Association, Department of Defense, and the National Space Biomedical Research Program. As a member of the Endocrine Society, Dr. Smith has most recently served as a member of the ENDO Taskforce, Endocrine Society Strategic Plan 4 Task Force, Governance Task Force, Chair of the Scientific and Educational Programs Core Committee, Basic Science Chair of the Annual Meeting Steering Committee and then overall Chair in 2020, and as the Society's representative to the FASEB Science Research Conferences Advisory Committee.