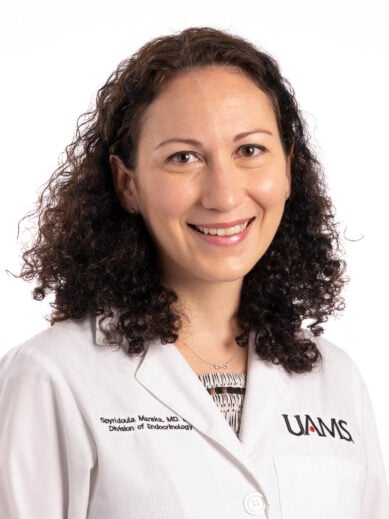 Spyridoula Maraka, M.D., is currently serving on the Patient Engagement Committee. She received her medical degree at the University of Athens School of Medicine in Athens Greece, graduating summa cum laude. Dr. Maraka completed a residency in internal medicine at the University of Connecticut, School of Medicine and a clinical fellowship in endocrinology, metabolism, and nutrition at Mayo Clinic in Rochester, MN. She also completed a research fellowship at Mayo Clinic.
She is currently an Assistant Professor of Medicine in the Division of Endocrinology and Metabolism in the Department of Internal Medicine at University of Arkansas for Medical Sciences and a practicing endocrinologist at Central Arkansas Veterans Healthcare System.
Clinical Interests and Expertise: Thyroid Disorders
Research Interests and Expertise: Promotion of patient-centered, evidence-based endocrine care through a research program focusing on outcome analysis, evidence synthesis, and health services delivery. Main focus: subclinical hypothyroidism in pregnant women and older adults.
What is Your Favorite Gland and Why?
Of course thyroid gland! Thyroid hormones control the whole body and thyroid disorders are so common. However, with timely and expert diagnosis and management, we can address our patients' issues and this is so rewarding!

What Does Patient Education Mean to You?
Patient education is the cornerstone of medicine. It helps patients understand their condition and how to best manage their own care. It also allows patients to self-advocate and participate in shared decision making. I joined the Patient Engagement Committee to contribute in empowering patients by developing and updating educational material and organizing patient-centered activities.

What is One Thing You Wished Patients Knew About Endocrinology?
For most of the endocrine care decisions, there is more than one way to do things. An in-depth discussion between patients and their clinicians can lead to a medical decision that fits best the patients' context and values.