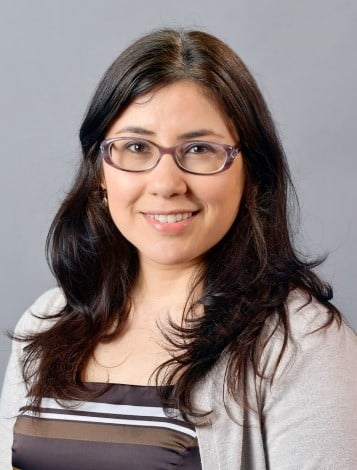 Board of Directors, At Large
Early Career Board Representative, Ex-Officio
Assistant Professor in the Division of Health Equities and the Department of Population Sciences at City of Hope
Duarte, CA
Lindsey S. Treviño, Ph.D. is an Assistant Professor in the Division of Health Equities and the Department of Population Sciences at City of Hope. Dr. Treviño received her doctorate in Reproductive Physiology from Cornell University, where she focused on the role of steroid hormone receptor signaling in the development/progression of ovarian cancer in the hen. Dr. Treviño continued her postgraduate training at Baylor College of Medicine, where she investigated the regulation of progesterone receptor activity by cell signaling pathways in breast cancer cells. She received additional postdoctoral training at the Institute of Biosciences and Technology of Texas A&M University, where she examined how developmental exposure to the endocrine disruptor bisphenol A (BPA) reprograms the liver epigenome to alter liver metabolism in adulthood in the rat. She continued this line of research as an Instructor at Baylor College of Medicine before joining City of Hope. Dr. Treviño's current research focuses on understanding the molecular basis by which endocrine disruptor exposure promotes the development of metabolic diseases with known disparities, such as cancer, obesity and diabetes. Dr. Treviño has been selected as a Future Leaders Advancing Research in Endocrinology (FLARE) Fellow, a Keystone Symposia Fellow, a National Institutes of Health Future Research Leader, and as a recipient of the Young Investigator Award sponsored by the Women in Endocrinology. She previously served on the Committee on Diversity and Inclusion (CODI), the Research Affairs Core Committee (RACC), and the Governance Task Force of the Endocrine Society.
The 3 key things I hope to learn during orientation are:
General principles of effective governance practice
Strategies for making good decisions when there is a sense of urgency
How to recognize leadership strengths and areas for improvement in myself and others
I am excited to be part of the Endocrine Society leadership team because:
I am excited to be a part of the Endocrine Society leadership team because I have seen firsthand how impactful it can be to have diversity in leadership through my participation on the Governance Task Force (GTF). The GTF was able to achieve its goals while taking into consideration the diversity in expertise, geographic location, career stage, etc. of the members that will advance endocrine research and practice. This was possible due to the deliberate effort to assemble the GTF with diversity in mind. I hope to contribute my unique perspective to strategic initiatives that will further the Society's vision.
Tell us about when and why you joined the Endocrine Society.
I joined the Endocrine Society in December of 2010 as a postdoctoral fellow. I was encouraged to join by my mentor Nancy Weigel, who is a very active member in the Society.
My favorite Endocrine Society moment or experience is:
I have a few: 1) Attending the FLARE workshop; 2) Taking a selfie with Dr. Francis Collins on an escalator at ENDO 2019!; 3) Participating in a press conference on endocrine disrupting chemicals at ENDO 2017.
I believe that the Endocrine Society's significant organizational strengths are:
One strength is the highly qualified and committed staff. The Endocrine Society is a recognized global leader on many topics, but particularly on endocrine-disrupting chemicals. This is a testament to the dedication of the staff (and members) to advocate for policy and research support in this area across the globe.
I think that these 3 areas are opportunities for growth and improvement in the Endocrine Society:
Leveraging resources to strengthen the pipeline of endocrine researchers and clinicians
Clearly defining the role for the Society in the global community
Building connections to funding agencies outside of the NIH
How would you describe your approach to collaboration and team decision making?
Throughout my career, I have actively sought out opportunities to collaborate and participate in team decision making. In my experience, no one person has all of the expertise and experience necessary to make decisions addressing complex issues. It takes a diverse team to look at these issues from all angles and develop effective solutions.
I would describe my top 3 leadership strengths as:
• Communication
• Empathy
• Resilience
As leaders, we all strive to continuously improve. What would you like to improve in terms of your leadership skills?
I would like to learn skills that will help me move from doing to thinking (being more strategic). I currently find it difficult to focus on the big picture/vision and allow my team to handle the work to achieve that vision.
The one thing that most people may not know about me is:
I won first place (multiple times) in the University Interscholastic League's (sponsored by the University of Texas at Austin) Spelling and Vocabulary contest when I was younger.
My hobbies are:
Reading, dancing, riding my bicycle
Fun facts about myself:
Favorite color: Purple
Favorite food: Arroz con pollo
Favorite movie genre: Science Fiction
Favorite book genre: Science fiction and historical fiction
Favorite music genre: Rock
Favorite portable snack: Trail mix