The care of individuals who survived cancer—including children, adolescents, and young adults—is complex, and patients should be cared for by endocrinologists and other physicians who are familiar with important aspects of this care. The various therapies used to treat cancer can throw off the endocrine/hormonal system. Thus, it is critical to know the early and late endocrine symptoms that may develop and possible effects following cancer treatment in cancer survivors.
Endocrine Connection
The causes of endocrine effects in survivors of cancer include surgery, chemotherapy, radiation, and effects of the cancer or tumor itself. Endocrine glands may be affected in the areas of a tumor, where surgical and radiation interventions are targeted. Chemotherapy may have effects on endocrine glands distant from the site of the tumor, often affecting the reproductive organs.
The most frequently affected endocrine organs in cancer survivors are the hypothalamus and pituitary glands. The hypothalamus produces hormones which link the nervous and endocrine systems through the pituitary gland. Hormones produced in this region include growth hormone (GH), the fertility hormones luteinizing hormone (LH) and follicle-stimulating hormone (FSH), thyroid-stimulating hormone (TSH), and the cortisol-producing adrenocorticotropic hormone (ACTH).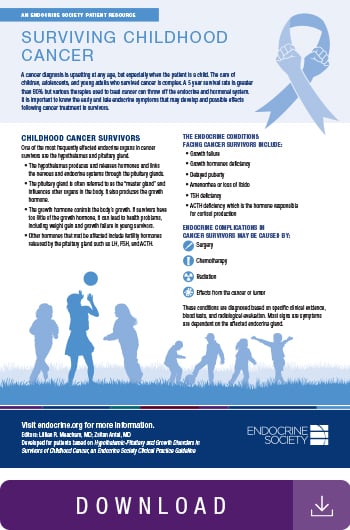 Developed for patients based on Hypothalmic-Pituitary and Growth Disorders in Survivors of Childhood Cancer, An Endocrine Society Clinical Practice Guideline.