Congenital adrenal hyperplasia (CAH) is a genetic disorder in which the two adrenal glands (located at the top of the kidneys) do not function properly. CAH is caused by genetic defects in the proteins and enzymes involved in cortisol biosynthesis. The most common mutation is in the gene encoding the adrenal steroid 21-hydroxylase, which is an enzyme responsible for converting cholesterol to cortisol within the adrenal glands. Without this enzyme, the adrenal glands may produce too little cortisol and/or aldosterone and too much androgen.
Endocrine Connections
Classic CAH is usually diagnosed in infancy or early childhood and is the most severe, life-threatening type. In one form of classic CAH, called "salt-wasting" (meaning the body has trouble keeping the right amount of salt in the blood), the adrenal glands do not make enough cortisol and aldosterone. If not found and treated, classic CAH can cause shock, coma, and death.
Nonclassic CAH is a more common, less severe condition in which there is still some adrenal steroid 21-hydroxylase enzyme activity remaining. It is usually diagnosed in later childhood or adulthood. Nonclassic CAH does not cause "salt-wasting." Symptoms of nonclassic CAH include early puberty in children and irregular menstrual periods, acne, and/or unwanted hair growth in women.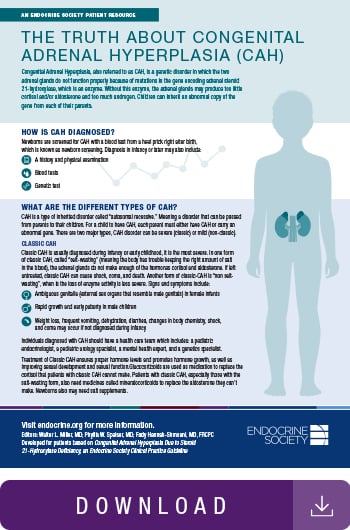 Developed for patients based on Congenital Adrenal Hyperplasia Due to Steroid 21-Hydroxylase Deficiency, An Endocrine Society Clinical Practice Guideline.