Hyperglycemia is the medical term for blood glucose (sugar) that is too high. High blood glucose (HBG) is a common problem for people with diabetes. Blood glucose can also rise too high for patients in the hospital, even if they do not have diabetes. Hyperglycemia in a hospitalized patient is very common. Infections, certain medications (e.g. prednisone (steroid medication) and the body's stress response to an illness can all increase the likelihood of developing hyperglycemia in the hospital.
Approximately 1 out of every 4 patients admitted to the hospital have diabetes. Another 25% of patients who do not have diabetes experience hyperglycemia when they are sick and in the hospital.
Endocrine Connection
Insulin is a hormone made by the pancreas. Insulin unlocks cells so that glucose can enter. When glucose enters cells, the body has energy. Energy is needed to perform normal daily activities and for our heart to beat and lungs to breathe. Without insulin or enough insulin, glucose levels rise. If glucose levels go too high, it is called hyperglycemia.
When someone is sick the body makes extra amounts of stress hormones. Stress hormones include cortisol, glucagon, growth hormone, and epinephrine. They help the body handle the stress of illness by making extra glucose to fuel the increased energy needs. Sometimes, however, extra hormones can cause insulin resistance which prevents insulin from doing its job. Glucose builds up in the blood, as a result, which leads to hyperglycemia.

Many conditions can cause or worsen HBG in hospital patients. These include:
Physical stress of illness, trauma, or surgery
Infections such as urinary tract infection, pneumonia, flu or COVID-19
Decrease in physical activity
Steroids like prednisone and some other medicines
Withholding or missed diabetes medicines
Liquid food given through a feeding tube or nutrition given intravenously
Certain rare endocrine conditions such as Cushing disease or tumor making too much of the stress hormones such as growth hormone or glucagon
Many times, patients with diabetes have higher blood sugars when in the hospital, and patients who do not have diabetes may have high blood sugars while in the hospital.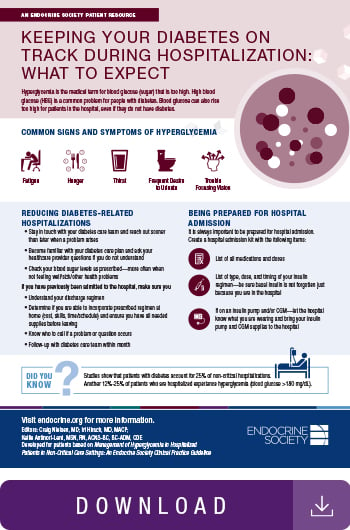 Developed For Patients Based on Management of Hyperglycemia in Hospitalized Patients in Non-Critical Care Settings: An Endocrine Society Clinical Practice Guideline