Gender identity—a person's internal sense of being a boy, girl, neither, or both—begins to develop in early childhood around age 2-4 years and may evolve over time, with a more developed sense of gender identity usually emerging in adolescence. Gender identity is different from sexual orientation, which is defined as the sex or gender to which a person is attracted.
Gender incongruence or gender diversity is when a person's gender identity and/or gender expression (the external appearance of one's gender identity) differs from the sex assigned at birth. Childhood gender diversity is an expected part of human development, is not a pathology or mental health disorder, and may not reflect adult transgender identity or gender incongruence. Transgender is a term used for a gender identity opposite the sex assigned at birth, while gender non-binary or gender-expansive describes a gender identity that is not exclusively male or female. Cisgender is a term used to describe a gender identity which is the same as the sex assigned at birth.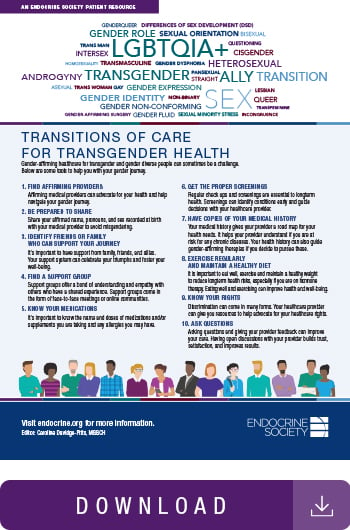 Developed for patients based on Endocrine Treatment of Gender Incongruent/Gender Dysphoric Persons, An Endocrine Society Clinical Practice Guideline.