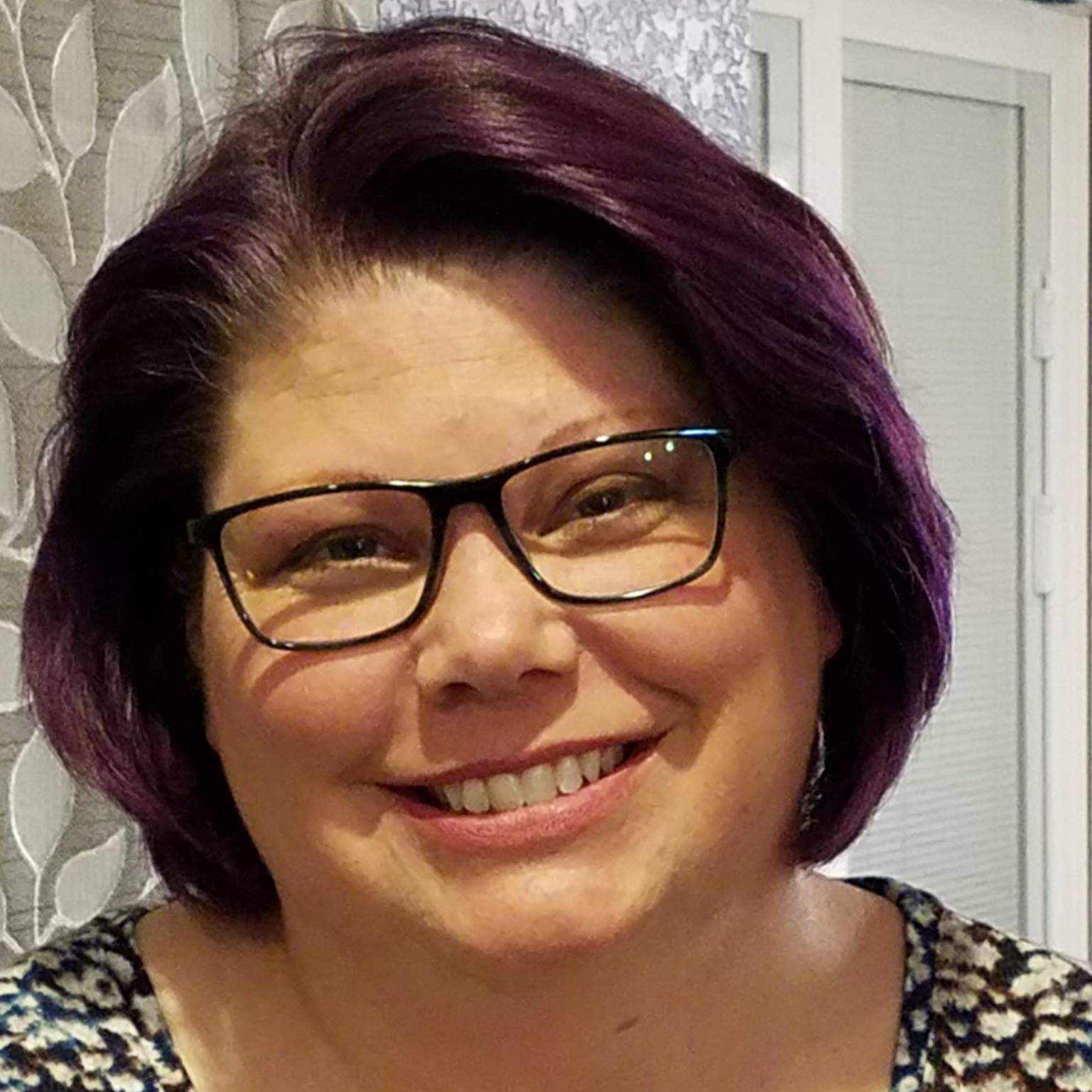 At age 24, Claire Pegg was in-between jobs and donating plasma to make ends meet. During each donation pre-screening, she noticed that she was losing a significant amount of weight but didn't think much of it. Claire began experiencing excessive thirst and was unable to pass by a bathroom without the urge to use it. A few weeks later, she started to experience blurred vision and seeing quickly became difficult.
With her frustration growing, Claire confided her symptoms in her co-worker who immediately blurted out, "Oh my God, you have sugar diabetes" It was the sentence that would change everything for Claire. Until then the word "diabetes" had been much of a taboo, with it only affecting her great aunt. Uninsured at the time, she began visiting the library to learn as much as she could about diabetes and the health insurance process.
Two weeks later, she was diagnosed with type 2 diabetes based on her weight and age. "I was not a thin person at the time, so they diagnosed me as type 2 without any kind of blood work" Claire said. She started on metformin, a common drug used to treat type 2 diabetes. The medication had small helpful effects, but ultimately did not control her blood glucose (sugar) levels.
Dog Days of Diabetes
Claire was using a glucometer daily to check her blood glucose and her readings kept coming back as high, and she was quickly hospitalized with hyperglycemia, or high blood sugar, a dangerous life-threatening complication of diabetes. The narrative at that point from her healthcare team was "you're really not very good at this so we're going to have to put you on insulin." After a quick educational session from a nurse, using an orange to demonstrate how to inject insulin, Claire got started on her new routine of NPH, an intermediate-acting insulin, and regular insulin.
Returning to work was difficult for Claire. Her position as an airport gate agent offered little to no breaks for her to manage her diabetes and new insulin regimen. "Sometimes you will get your breaks and sometimes you won't and there are complicated rules for coverage on the job," Claire said. NPH insulin peaks four to six hours after you take it, so Claire would take it with breakfast and hope that it covered her through lunch. "Assuming I don't have unusual levels of activity, stress, or anxiety, then the peak is going to hit, and I better be sitting down, or my blood sugar would just crash" Claire said.
Light at the End of the Tunnel
At the Barbara Davis Center for Childhood Diabetes in Aurora, Colo., Claire underwent a c-peptide test—a blood test that helps determine which type of diabetes you have— and found that her body was producing no insulin. "It has been quite a journey... once my healthcare team updated my diagnosis to type 1 diabetes [a condition in which your pancreas produces little to no insulin] I got on a better regime and tried different phases of therapies, ultimately graduating to a hybrid closed loop system" Claire said.
A hybrid closed-loop system is a type of diabetes technology that continually adjusts insulin delivery. With this system, Claire has been able to live a full and rich life, despite her diagnosis. "Thinking back to ten or fifteen years ago, my blood sugar level was an ever-consuming thought, with feelings of shame depending on my reading. Not having to physically check blood glucose levels constantly with the closed loop system has taken so much off my shoulders and has made the biggest difference in the world" Claire said. However, Claire recognizes that she is lucky to have access to this technology with many people facing difficult hurdles to receive it. "It's a source of great frustration to me that getting the closed loop system is based on privilege, health insurance, and having access to providers who are knowledgeable, comfortable, and able to make things happen" Claire said.
The Ardent Advocate
Claire continues to advocate for improved diabetes education as much as possible. She most recently served as a patient advocate for the Endocrine Society's new Clinical Practice Guideline on managing hyperglycemia in the hospital. "I truly enjoyed working with the experts on the guideline. It was reassuring to have a patient voice at the table and see how organized and evidence based the process was. Having an opportunity to share my hospital setting experiences about medication, meal timing and delivery; for the purpose of improving access to informed care for those who need it, was truly invaluable," Claire said.
Claire also helped her father get diagnosed at the age of 74 with type 1 diabetes as she was able to recognize the signs and symptoms. With her family history, Claire was very conscious of her children's increased risk of developing diabetes, so she makes sure their antibodies are tested each year. They are currently signed up for the Diabetes Auto Immunity Study in the Young (DAISY), whose purpose is to learn how genes and the environment interact to cause childhood (type 1) diabetes.
Remove the Judgement
After living with diabetes for over 20 years, Claire has reached a point where she feels confident and educated. "When you are diagnosed with diabetes, you are handed a mess and it takes a lot of work, but you can live a great life. You are not a good or bad person based on your blood glucose levels, complications, or weight; These are things that happen because of an illness" Claire said. Claire hopes that those living with diabetes can learn to be their own advocate and benefit from the insights gained from the latest research.
Be Your Own Advocate
Ask providers to explain your diabetes plan of care while in the hospital including timing and doses of insulin/diabetes medication, blood glucose monitoring schedule, meal tray delivery and diet orders. This will keep you in the know and ensure you can continue your home regimen.

Request to be told all blood glucose results, both fingerstick and lab. Often, hospitals have communication boards in patient rooms where they can be written for review. Also, ask if an A1C level has been completed and what the result was.

If you would like additional expert support during your hospitalization, ask to be seen (a consult) by an endocrinologist or diabetes management team if the hospital has one on staff. You can also ask to be seen by the hospital's Diabetes Care & Education Specialist who is often a nurse, dietitian or pharmacist.

If you are on meal or correction insulin and your tray arrives before your glucose is checked or insulin administered, call for the nurse. Timely administration of insulin is important, and your help is welcomed.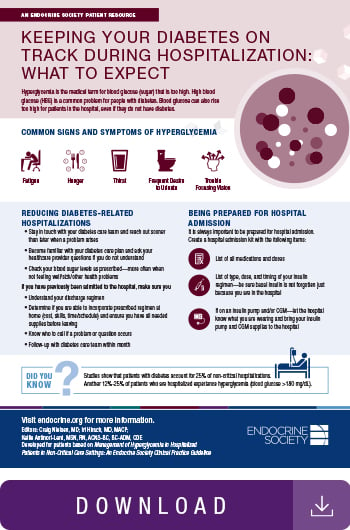 Developed For Patients Based on Management of Hyperglycemia in Hospitalized Patients in Non-Critical Care Settings: An Endocrine Society Clinical Practice Guideline