Partner With Us!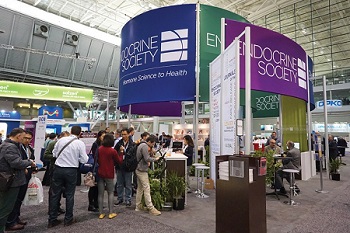 The Endocrine Society provides a wide range of partnership opportunities for industry to help improve global health, patient care, basic research, health care policy, and the future of endocrinology. You will join the largest and most respected scientific and professional organization for endocrinologists in the world. Our more than 18,000 members from more than 100 countries work in clinics, hospitals, private practices, universities and other institutions to address the full range of endocrine disorders.
Benefits of Collaboration
Connect with thought leaders: Interact with the most influential global leaders in endocrinology research and practice.
Create a presence at meetings: Meet face-to-face with your target audience at ENDO and other meetings to build brand awareness, generate new leads, and foster quality relationships.
Present ancillary symposia: Introduce your product to thought leaders at our largest gatherings of endocrinologists in the world.
Rent mailing lists: Reach both members and non-members through direct-mail offers at their home or office address.
Take a seat at the table: Share your perspective with our leaders on clinical and patient education, health care legislation and more.
Meet Some of Our Partners
Many Ways to Partner
Explore different ways that partnering with us can help advance hormone health care and the global endocrine community.
---