Training and Education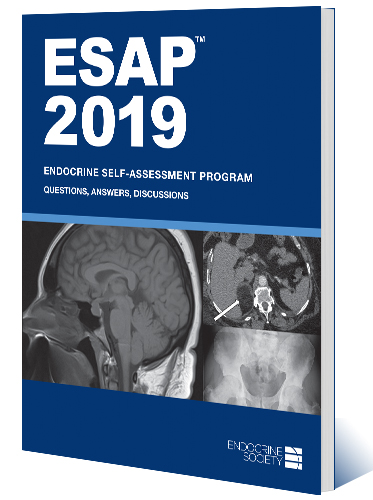 The Endocrine Self-Assessment Program (ESAP™) is a self-study curriculum for endocrinologists determined to go beyond certification and provide the best in patient care. ESAP 2019 consists of 120 brand-new multiple-choice questions in all areas of endocrinology, diabetes, and metabolism. For accessibility for international practitioners, SI units are included.
Assess your clinical knowledge with our three learning modes:
ESAP 2019 Learning Mode: Use this traditional mode to answer 120 questions and receive immediate feedback and view the detail answer rationale. This mode must be completed in order to earn CME and MOC.
Mock Exam Mode: This is perfect for simulating an exam, which you can retake as often as you like. Each time the questions will be re-organized, and feedback will be provided after completion of the exam.
Topical Learning Mode: Questions are organized by topical area to offer another option for navigating the content.
ESAP helps you test your knowledge in everyday practice. Updated with 120 new cases, ESAP 2019 delivers:
Interactive online modules and printed reference book
Three learning modes to complement different learning styles
Peer-review comparisons for each question
Up to 40 AMA PRA Category 1 Credits™ and 40 ABIM MOC Points
Detailed overall performance report
Lab values in conventional and SI units
A very good overview of endocrinology, new diagnostic tools, and treatments using up-to-date research and clinical outcomes.
— David DePaolo, MD
How to Get Started
If not logged in, login or create your account
Purchase ESAP 2019 in our online store
Begin the course at the Center For Learning located in your "Pending Activities"