Training and Education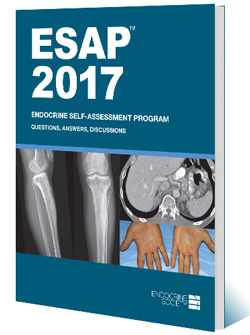 For endocrinologists determined to go beyond certification and provide the best in patient care, the Endocrine Self-Assessment Program (ESAP™) delivers. ESAP 2017 covers a wide range of topics in endocrinology, diabetes, and metabolism in an online format.
ESAP 2017 is a self-study curriculum aimed at physicians seeking initial certification or recertification in endocrinology, program directors interested in a testing and training instrument, and clinicians simply wanting a self-assessment and a broad review of endocrinology. IT consists of 120 brand-new multiple-choice questions in all areas of endocrinology, diabetes, and metabolism. There is extensive discussion of each correct answer and references. ESAP is updated annually with new questions. For accessibility for international practitioners, SI units are included.
How to Get Started
If not logged in, login or create your account
Purchase ESAP 2017 in our online store
Begin the course at the Center For Learning located in your "Pending Activities"