Full Statement: Health Disparities in Endocrine Disorders: Biological, Clinical, and Nonclinical Factors—An Endocrine Society Scientific Statement
JCEM, Volume 97, Issue 9, September 2012
Sherita Hill Golden, Arleen Brown, Jane A Cauley, Marshall H Chin, Tiffany L Gary-Webb, Catherine Kim, Julie Ann Sosa, Anne E Sumner, Blair Anton
Abstract
Several themes emerged in the statement, including a need for basic science, population-based, translational and health services studies to explore underlying mechanisms contributing to endocrine health disparities. Compared to non-Hispanic whites, non-Hispanic blacks have worse outcomes and higher mortality from certain disorders despite having a lower (e.g. macrovascular complications of diabetes mellitus and osteoporotic fractures) or similar (e.g. thyroid cancer) incidence of these disorders.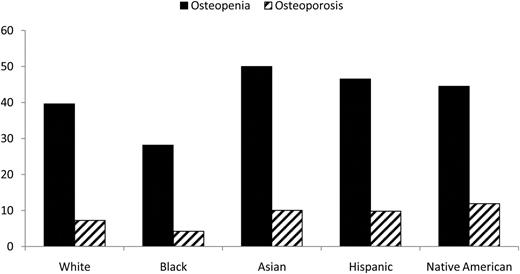 Obesity is an important contributor to diabetes risk in minority populations and to sex disparities in thyroid cancer, suggesting that population interventions targeting weight loss may favorably impact a number of endocrine disorders. There are important implications regarding the definition of obesity in different race/ethnic groups, including potential underestimation of disease risk in Asian-Americans and overestimation in non-Hispanic black women. Ethnic-specific cut-points for central obesity should be determined so that clinicians can adequately assess metabolic risk. There is little evidence that genetic differences contribute significantly to race/ethnic disparities in the endocrine disorders examined. Multilevel interventions have reduced disparities in diabetes care, and these successes can be modeled to design similar interventions for other endocrine diseases.
About Scientific Statements
Scientific Statements educate basic scientists, clinical scientists, and clinicians on the scientific basis of disease and on how this knowledge can be applied in clinical practice. These publications provide an evidence-based overview of basic and clinical science topics and identify areas that require additional research. Topics are selected on the basis of their emerging scientific impact on disease and their clinical relevance to the general population. Scientific Statements are developed by a multidisciplinary Task Force of experts with representation from several committees within the Endocrine Society.
Watch our Health Disparities Webinar: Breaking Down Barriers to Diabetes Care. The September 2021 event was held as part of our 100 Years of Insulin celebration.