Welcome to the first episode of the Endocrine Society's new journal club podcast series, Endocrine Feedback Loop!
Join host Dr. Chase Hendrickson, Vanderbilt University Medical Center, for the launch of Endocrine Feedback Loop. This episode features Dr. Richard Comi, expert educator from Dartmouth Hitchcock Medical Center, and Dr. William Young, leading expert in primary aldosteronism from Mayo Clinic (Rochester), discussing "Role of Aldosterone and Potassium Levels in Sparing Confirmatory Tests in Primary Aldosteronism" from the April 2020 print edition of The Journal of Clinical Endocrinology & Metabolism.
Click here to log in and listen to the episode!
Meet the Speakers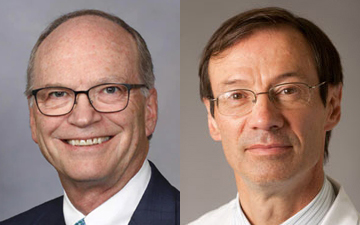 Dr. William Young is the Tyson Family Endocrinology Clinical Professor and Professor of Medicine in the Mayo Clinic College of Medicine at Mayo Clinic in Rochester, Minnesota. He is the recipient of multiple education awards and is a past president of the Endocrine Society, as well as past chair of the Division of Endocrinology at Mayo Clinic. Dr. Young's clinical research focuses on primary aldosteronism and pheochromocytoma. He has published more than 300 articles on endocrine hypertension and adrenal and pituitary disorders. He has delivered more than 650 presentations at national and international meetings, and he has been an invited visiting professor for more than 150 medical institutions.
Dr. Richard Comi is a Professor of Medicine at the Geisel School of Medicine at Dartmouth, Section Chief of Endocrinology and the Program Director for the endocrinology fellowship program at DHMC. Dr. Comi has been a member of the Department of Medicine at DHMC since 1989. He graduated from Harvard Medical School in 1980, completed his residency in Internal Medicine at the Massachusetts General Hospital in 1983 and did his fellowship in Endocrinology at the National Institutes of Health from 1983-1988. Dr. Comi has been instrumental in developing clinical programs in diabetes management at DHMC and in regional education outreach to disseminate best-practices of complex diabetic care. Dr. Comi was recognized in 2013 for his expertise and dedication to teaching by becoming a member of the Academy of Master Educators in the Geisel School of Medicine at Dartmouth.