This episode is the only Open Access episode in this series; tune in today! Interested in listening to the rest of our series? Become a Member and gain access to our entire catalog.
Join host Dr. Chase Hendrickson, Vanderbilt University Medical Center, Dr. Marc-Andre Cornier, Professor of Medicine and Associate Division Head for Endocrinology at University of Colorado School of Medicine, and Dr. Joseph Verbalis, Chief of the Division of Endocrinology and expert in hyponatremia from Georgetown University, as they discuss a JCEM article from the November print edition, "Risk of Adverse Clinical Outcomes in Hyponatremic Adult Patients Hospitalized for Acute Medical Conditions: A Population-Based Cohort Study."
Click here to listen to the Open Access episode!
Meet the Speakers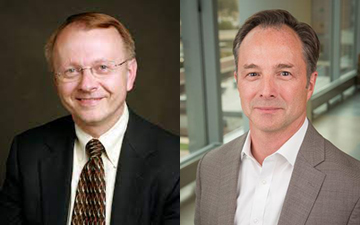 Joseph G Verbalis, MD, graduated from Princeton University with an AB in chemistry in 1971, and received an MD from the University of Pittsburgh in 1975. He completed his residency training at the Hospital of the University of Pennsylvania from 1975-1978 and his fellowship training in endocrinology and metabolism at the University of Pittsburgh from 1978-1980. Dr. Verbalis was a faculty member at the University of Pittsburgh from 1980 through 1995, where he rose to the position of tenured Professor of Medicine, and then relocated to Georgetown University in Washington, DC where he has served as the Chief of the Division of Endocrinology and Metabolism since 1995. Dr. Verbalis's research has been continuously funded by the NIH for 25 years and has concentrated on mechanisms underlying adaptation to hyponatremia, renal escape from vasopressin, osmotic regulation of hypothalamic gene expression, sex differences in physiology and pathophysiology, exercise-associated hyponatremia, hyponatremia-induced osteoporosis, and clinical use of vasopressin receptor antagonists. He has published over 300 journal articles, reviews, and book chapters related to the neuroendocrine regulation of vasopressin and oxytocin, and disorders of body fluid homeostasis (h-index=75). He authors the chapters on vasopressin and water metabolism in major textbooks of endocrinology, nephrology, and neuroscience. He is a regular speaker at national and international meetings on neuroendocrinology and body fluid homeostasis, with invited lectureships in 35 states and 36 countries.
Marc-Andre Cornier, MD, has been on faculty at the University of Colorado with the Division of Endocrinology, Metabolism and Diabetes since 2001, where he is currently a Professor of Medicine and Associate Division Head. Dr. Cornier is the Associate Director and Medical Director of the University of Colorado Anschutz Health and Wellness Center where he is also the Medical Director of the My New Weigh meal-replacement weight loss program. Dr Cornier is the Director of the Advanced Lipid Disorders Clinic and Lipoprotein Apheresis Program at University of Colorado Hospital. Prior to these roles, he received a bachelor of science in biomedical engineering at Vanderbilt University in 1987. Dr. Cornier received his medical degree in 1992 at the Medical College of Georgia. He went on to do his internal medicine internship and residency at Georgetown University Medical Center in Washington, DC from 1992 to 1995. He followed this with a fellowship in Endocrinology, Metabolism and Diabetes at the University of Colorado health Sciences Center in Denver, Colorado, which he completed in 1999. Dr. Cornier is an active clinical and translational investigator with a primary research interest in understanding the complex regulation of food intake and body weight. He is the Director of the Clinical Intervention and Translation Core of the Colorado Nutrition Obesity Research Center.