Join host Dr. Chase Hendrickson, Vanderbilt University Medical Center, Dr. Salila Kurra, Fellowship Program Director and Clinical Chief for Endocrinology at Columbia University Irving Medical Center, and Dr. Andrea Utz, Assistant Professor and Director of the Pituitary Center at Vanderbilt Universtiy Medical Center, as they discuss a recent article from The Journal of Clinical Endocrinology & Metabolism (JCEM), "Improved Urinary Cortisol Metabolome in Addison Disease: A Prospective Trial of Dual-Release Hydrocortisone."
Click here to login and listen to the episode!
Meet the Speakers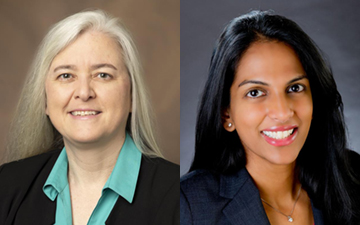 Andrea Utz, MD, PhD, obtained her undergraduate degree in biomedical engineering from Duke University and received her medical degree and PhD from Vanderbilt University School of Medicine. She then completed her Internal Medicine residency and fellowship at Massachusetts General Hospital. She then joined the staff of the Massachusetts General Hospital Neuroendocrine Unit and faculty at Harvard Medical School. Dr. Utz is currently an Associate Professor at Vanderbilt University Medical Center, where she also serves as the Director of the Pituitary Center. She is a widely published author, with much of her research focusing on undertanding and treating pituitary and adrenal disorders. Dr. Utz has also participated in the development of the Endocrine Society's Clinical Practice Guideline on the management of acromegaly.
Salila Kurra, MD, received her medical degree from the Columbia University College of Physicians & Surgeons and completed her post-graduate training in Internal Medicine and Endocrinology at the Columbia University Medical Center. Dr. Kurra is an Associate Professor of Medicine at the Columbia University Irving Medical Center, where she serves as Assistant Dean of Student Affairs and Program Director of the Endocrine Fellowship. She also serves as Clinical Chief for the Division of Endocrinology and is the Medical Director of the Columbia Adrenal Center. She leads the medical student course in endocrinology and is actively involved in curriculum development and oversight at the medical school. Dr. Kurra also serves as Chair of the Endocrine Society In-Training Examination Steering Group.