Join host Dr. Chase Hendrickson, Vanderbilt Unviersity Medical Center, as he discusses a recent JCEM article with Dr. Ashok Balasubramanyam, Professor of Medicine for Endocrinology at Baylor College of Medicine, and invited topical expert Dr. Steven Bain, Clinical Director of the Diabetes Research Unit at Swansea University. The article featured this month is from the February 2022 print edition of JCEM, "Effects of Tirzepatide, a Dual GIP and GLP-1 RA, on Lipid and Metabolite Profiles in Subjects with T2D."
Click here to login and listen to the episode!
Meet the Speakers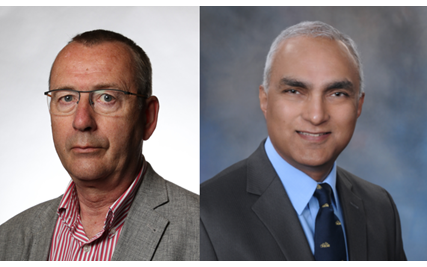 Steve Bain is the Clinical Director of the Diabetes Research Unit, Swansea University and Medical Director for Research & Development for Swansea Bay University Health Board. Professor Bain completed his undergraduate training at St John's College, Cambridge, and then was clinically trained at King's College Hospital, London. On qualifying in 1983, he went on to hold junior appointments in London, the East Midlands, and the West Midlands, UK. His research centred on the genetics of type 1 diabetes, and he was granted a Medical Research Council Lectureship. In 1993, he became a Senior Lecturer/Honorary Consultant Physician at Birmingham Heartlands Hospital, Birmingham, with promotion to Reader in Diabetic Medicine in 1998. Professor Bain became a Fellow of the Royal College of Physicians UK in 1996. Professor Bain was appointed to a newly created Chair in Medicine (Diabetes) in the University of Wales Swansea in 2005. His clinical interests include the genetics of diabetic nephropathy, new therapies for diabetes and the provision of diabetes services within the community. He has been Chief Investigator for several multi-centre trials investigating novel therapies for diabetes. Professor Bain is the Diabetes Lead Clinician for the Swansea Bay University Health Board and a member of the Wales Diabetes & Endocrine Society (WEDS) executive committee. He chairs the Joint Clinical Research Facility in Swansea and was Clinical Director of the Academic Health Science Collaboration (AHSC) in Wales until September 2015. He chaired the Diabetes & Endocrinology Specialist Training Committee (STC) for Wales 2010-2017 and is currently Chair of the National Specialist Advisory Group (NSAG) for Diabetes in Wales.
Ashok Balasubramanyam, MD, is a Professor of Medicine in the Division of Endocrinology, Diabetes and Metabolism at Baylor College of Medicine. Dr. Balasubramanyam received his clinical and research training at Baylor and at the Massachusetts General Hospital in Boston.He serves as Vice President for Academic Integration at Baylor and Chief Academic Officer of Baylor-St. Luke's Medical Center and the Texas Division of the Catholic Health Initiatives network.Dr. Balasubramanyam's research focuses on the causes of complex metabolic diseases - he holds the Rutherford Chair in Diabetes Research and is known for his work in identifying and characterizing atypical forms of diabetes and disorders of adipose tissue. He is principal investigator of the RADIANT (Rare and Atypical Diabetes Network) project, a consortium funded by the National Institutes of Health to discover and determine the causes of new forms of diabetes, and a member of the Baylor center for the NIH's Undiagnosed Diseases Network.He has been deeply involved in education at every level of clinical and research training, and currently serves as director of Baylor's Clinical Scientist Training Program. Dr. Balasubramanyam also serves as Chair of the American Board of Endocrinology, Metabolism and Diabetes, and a Councilor of the American Board of Internal Medicine.