Join host Dr. Chase Hendrickson, Vanderbilt Unviersity Medical Center, as he discusses a recent JCEM article with Dr. Alan Dalkin, Professor of Medicine and Vice Chairman for the Department of Medicine at the University of Virginia, and invited topical expert Dr. Cliff Rosen, Principle Investigator for the Northern New England Clinical and Translational Research Network and experienced clinical researcher. The article featured this month is from the December 2021 print edition of JCEM, "Systems-Level Opportunities in the Management of Primary Hyperparathyroidism: An Informatics-Based Assessment."
Click here to login and listen to the episode!
Meet the Speakers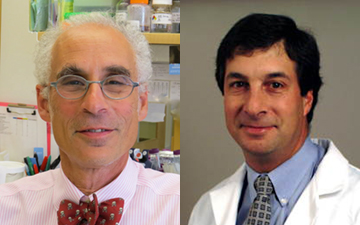 Clifford Rosen, MD, is the Principal Investigator for the Northern New England Clinical and Translational Research Network (U54) that stresses clinical translation of basic investigations. He also oversees the Rosen Musculoskeletal Laboratory at the Maine Medical Center Research Institute (MMCRI) and is a board-certified endocrinologist. Dr. Rosen has more than twenty-five years of continuous NIH funding, first at The Jackson Laboratory and subsequently at MMCRI. In 2007, Dr. Rosen moved from The Jackson Laboratory to MMCRI where he was appointed senior scientist and director of clinical and translational research. In the last ten years, the Rosen laboratory has been studying mesenchymal stem cell fate with particular reference to the switch between pre-adipocytes and pre-osteoblasts, and with a focus on the bioenergetic programs of those progenitors. There are currently four NIH funded projects in this laboratory, focused on a central theme of lineage allocation, its biochemical determinants and its alterations in osteoporosis. Dr. Rosen is the contact PI for a four center interdisciplinary program from NIDDK, which includes Michigan, Harvard and Yale. Additionally, he is the multiple PI on a U19 from NIA in collaboration with M. Zaidi to study the effects of FSH on adipose tissue particularly during aging. This grant includes Mt. Sinai, Maine, UT Southwestern and UCSF. Dr. Rosen is the Director of the Physiology Core of a P20 COBRE and co-director of the Mesenchymal and Neural Regulation of Metabolic Networks (NIGMS). Dr. Rosen's lab has been involved in pre-clinical studies of changes in the microbiome with age, diet, and location. He is the past president of the American Society of Bone and Mineral Research and currently a council member of the National Advisory Committee on Aging (NIA). He previously served a four-year term on the NIAMS council and the Endocrine Society. Dr. Rosen is chair of the governance committee for the CTR N3C network. He has been an Associate Editor at New England Journal of Medicine for almost 7 years, and a Senior Editor at eLife. Dr. Rosen has published 550 peer-reviewed publications in Journals such as Nature, Nature Medicine, Cell, Cell Metabolism, PNAS, New England Journal, Journal of Clinical Investigation and Lancet. He currently serves as chair of the Steering Committee for CALERIE, an R33 from NIA evaluating the impact of calorie restriction in adults. He also is co-chair of the Task Force on Minority Aging Research for NACA Council. He is also a co-editor of the 14th edition of the Williams Textbook in Endocrinology and 4th edition of The Principles of Bone Biology.
Alan Dalkin, MD, graduated college and medical school from the University of Michigan, completed a residency program in Internal Medicine at The University of Chicago, and returned to the University of Michigan for a fellowship in Endocrinology and Metabolism.He remained on faculty in Ann Arbor for one year after completing his training, before joining the faculty at the University of Virginia.He is currently a Professor of Medicine in the Division of Endocrinology there, and serves as Vice Chairman for the Department of Medicine, having numerous roles in departmental operations and leading the effort in faculty development along with Promotion and Tenure.He holds a Harrison Distinguished Teach Professor of Medicine endowed chair. Dr. Dalkin has served on the Residency Review Committee for The American Council on Graduate Medical Education; has served as Program Director for the Division of Endocrinology at UVa; and has held numerous key positions in the Association of Program Directors in Endocrinology and Metabolism.He also leads the annual production of educational and testing products for the Endocrine Society. His clinical work is predominantly in the area of metabolic bone disease with an emphasis on osteoporosis and hyperparathyroidism.Dr. Dalkin has been recognized for his clinical work with a number of awards including departmental recognition such as Attending of the Year, and having been selected to America's Top Doctors and Best Doctors in America along with having been recognized with an award for best Bedside Manner. He has published numerous articles in peer-reviewed journals and authored a number of invited reviews in the area of osteoporosis.Dr. Dalkin has been invited to deliver numerous local, state-wide and national presentations in the area of osteoporosis, metabolic bone disease, and disorders of vitamin D.