Join host Dr. Chase Hendrickson, Vanderbilt Unviersity Medical Center, as he discusses a recent JCEM article with Dr. Alyson Myers, Associate Chair for DEI for the Department of Medicine at Montefiore/Albert Einstein, and Dr. Grazia Aleppo, Associate Chief for Clinical Affairs for Endocrinology at the Feinberg School of Medicine at Northwestern and the Medical Director of the Northwestern Medicine Diabetes Training and Education Program. The article featured this month is from the February 2022 print edition of JCEM, "Relationship Between Time in Range, Glycemic Variability, HbA1c, and Complications in Adults with T1D."
Click here to login and listen to the episode!
Meet the Speakers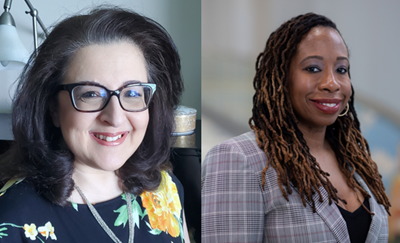 Grazia Aleppo, MD, FACP graduated magna cum laude from the University of Catania School of Medicine, Catania, Italy and subesquently completed internship, residency and endocrinology fellowship at The University of Illinois at Chicago. She is a professor of Medicine in the Division of Endocrinology, Metabolism and Molecular Medicine at the Feinberg School of Medicine, Northwestern Uniersity, Chicago. She is also the Associate Chief for Clinical Affairs in the same Division and the Medical Director of the Northwestern Medicine Diabetes Training and Education Program. Dr. Aleppo's clinical interest and research interest isin diabetes, particularly in the implementation of diabetes technology such as insulin pump therapy, continuous glucose monitoring (CGM) therapy, and automated insulin delivery systems in clinical practice. She has participated in the major clinical trials on the use of CGM in various populations and was the protocol chair for the Replace-BG clinical trial which lead to the approval of CGM therapy for Medicare beneficiaries in the USA. She has been very active in scholarly activities with over 60 publications and book chapters in peer reviewed journals. Dr. Aleppo is a fellow of the American College of Endocrinology and the American College of Physicians and a member of many professional societies, including the American Diabetes Association, the Endocrine Society, the American Association of Clinical Endocrinology, and the American College of Physicians. She serves on the editorial board of BMJ Open Diabetes and Research Care and is the Associate Editor of the Diabetes Technology and Therapeutics Journal. Dr. Aleppo is considered a prominent national key opinion leader in the field of diabetes technology.
Alyson Myers, MD is the Associate Chair for Diversity, Equity, and Inclusion for the Department of Medicine at Montefiore/Albert Einstein in the Bronx. She also is an adjunct Associate Professor at the Zucker School of Medicine at Hofstra/Northwell. Dr. Myers attended the University of Virginia, where she majored in French and minored in Chemistry. After college, she returned home to Queens, NY to teach junior high school math and science. A year later, she attended SUNY Downstate for medical school, where she was the four-year recipient of the President's Award Scholarship. She completed a five-year combined Internal Medicine/Psychiatry Residency at Rush University Medical Center in Chicago, IL. During her fourth year, she was selected as chief resident. After residency, she completed an endocrinology fellowship at the University of Texas Southwestern. During fellowship she received a T32 training grant in the area of mood disorders under the mentorship of Dr. Madhukar Trivedi. In late 2015, Dr. Myers was accepted as an Empire Clinical Research Investigators Program (ECRIP) fellow. As an ECRIP fellow she is conducting a feasibility study exploring the use of TeleHealth for lifestyle modification and improved glycemic control in Black and Hispanic patients with uncontrolled type 2 diabetes. From 2014-2020, she also served as the Medical Director for Inpatient Diabetes at North Shore University Hospital. She has several publications on the topics of diabetes disparities and diabetes technology. She has been a reviewer for several journals including, Journal of Diabetes Science and Technology and Diabetes Care. Also, she is an active member of the Endocrine Society as an abstract reviewer, and a presenter for 2022 ExCEL Program. Dr. Myers also serves on the American Board of Endocrinology, Diabetes and Metabolism. She has received numerous awards and accolades, including being recognized on Doctor's Day for community service by Northwell Health in 2021 and as Top Doctor of the Year by Professional Organization of Women Excellence Recognized (POWER) in 2019.