Join host Dr. Chase Hendrickson, Vanderbilt University Medical Center, as he discusses a recent JCEM article with Dr. Salila Kurra, Associate Professor of Medicine at the Columbia University Irving Medical Center, and Dr. John Newell-Price, Professor of Endocrinology at the University of Sheffield. The article featured this month is from the September 2022 print edition of JCEM, "Whom Should We Screen for Cushing Syndrome? The Endocrine Society Practice Guideline Recommendations 2008 Revisited."

Click here to login and listen to the episode!
Meet the Speakers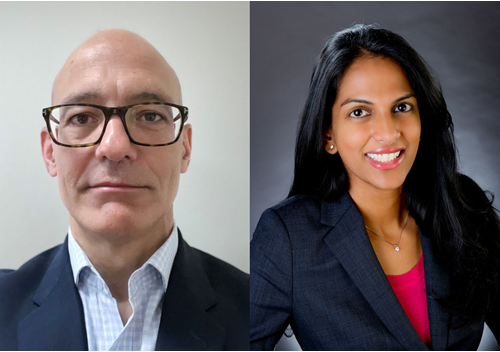 John Newell-Price is Professor of Endocrinology at the University of Sheffield. He qualified in medicine at the University of Cambridge, and undertook his clinical endocrine specialist training at St Bartholomew's Hospital in London, where he was also a Medical Research Council Training Fellow for his PhD. Since 2000, he has been at the University of Sheffield, and a Consultant Endocrinologist at Sheffield Teaching Hospitals NHS Foundation Trust where he is the Clinical Lead for the busy regional and tertiary endocrine service, including pituitary and adrenal disease, chairs the MDTs, and established and is lead for the Sheffield ENETS European Centre of Excellence for Neuroendocrine Tumours. He has set up and co-runs the joint gamma knife radiosurgery service for pituitary tumours at the National Radiosurgery Centre in Sheffield. He is passionate to improve standards of care for patients with endocrine conditions. He has been a Trustee of The Pituitary Foundation for 15 years and chairs the Medical Committee. His research interests include glucocorticoids, pituitary and neuroendocrine tumours, and he has published widely in these areas. Currently, he serves on the Board of Directors (2020-2023) and Clinical Practice Guideline Committee of the Endocrine Society. He was Senior Editor of the journal 'Clinical Endocrinology' 2016-2020, and has served on the Editorial Board of 'Journal of Clinical Endocrinology and Metabolism', and on task forces for clinical guidelines authored on Cushing's syndrome (2008 and 2015) for the Endocrine Society and Adrenal Incidentaloma (2016) for the European Society for Endocrinology and ENSAT. He chaired The Royal College of Physicians, UK Joint Specialist Committee for Diabetes and Endocrinology (2012-2016) is immediate past President of the UK and Ireland Neuroendocrine Tumour Society (2018-2021).

Salila Kurra, MD, received her medical degree from the Columbia University College of Physicians & Surgeons and completed her post-graduate training in Internal Medicine and Endocrinology at the Columbia University Medical Center. Dr. Kurra is an Associate Professor of Medicine at the Columbia University Irving Medical Center, where she serves as Assistant Dean of Student Affairs. She also serves as Clinical Chief for the Division of Endocrinology and is the Medical Director of the Columbia Adrenal Center. She leads the medical student course in endocrinology and is actively involved in curriculum development and oversight at the medical school. Dr. Kurra also serves as Chair of the Endocrine Society In-Training Exam Steering Group.